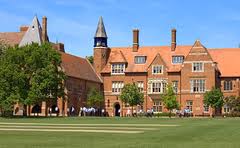 School lighting can contribute up to 40% of a school's total electricity bill.
Oxford, UK (PRWEB UK) 5 December 2012
The need to become more energy efficient is pressing upon independent schools more than ever before. With energy bills soaring and carbon taxes now a reality; schools need to respond with sustainable measures to reduce their energy costs.
But capital costs of renewable technologies no longer need to be a barrier for schools to make progress. As part of the Government's drive towards lowering carbon emissions, The Carbon Trust now provide Energy Efficiency Financing through Siemens Financial Services. This unique leasing arrangement is completely cost neutral, with energy savings and subsidies covering the costs of the lease.
"Most independent schools have been established in their main school buildings for many years and are likely to remain there for decades to come," says Jason Hobbins, Managing Director of EnergyMyWay, a specialist energy efficiency company assist schools across the UK. "Government subsidies are designed to give rewards for twenty plus years, which means schools are perfectly placed to take best advantage of the highest financial returns."
The Renewable Heat Incentive (RHI) rewards installations of heat pumps, biomass and solar hot water, while the Feed-in Tariff (FiT) provides regular income on installations of renewable electricity such as solar PV and wind turbines.
Whether it's a new school or a centuries-old one, an integrated energy strategy can help to cut costs from the outset, and school bursars are seeing the benefit of investing in greener energy systems right away.
"It's not just solar panels that provide a financial benefit. With old schools it's often tackling the insulation, and heating and hot water systems that provide quick, easy wins," said Mr Hobbins.
Abingdon School is a case in point. EnergyMyWay found it took three minutes for hot water to reach the boarding house showers, resulting in huge energy waste and high bills. The installation of two hot water heat pumps now produces instant hot water at a lower cost.
Mr Hobbins continued, "Air source and ground source heat pumps are highly efficient ways of reducing heating costs, particularly as part of the development of new school buildings. For older properties the savings for introducing biomass boilers are extremely high, especially when compared to the costs of oil or LPG.
"On the electricity side, there are the benefits and returns that can be achieved from solar, but we can also make a huge difference by upgrading the school's lighting, which can save up to 60% of your total lighting bill. Wind turbines provide a prominent environmental statement on the school's landscape and a fantastic educational tool, while all the time generating free electricity and further savings."
About EnergyMyWay
EnergyMyWay combine experience in the wide variety of renewable technologies, such as solar PV, wind turbines, biomass, and heat pumps, with a commitment to staying abreast of new developments in a rapidly evolving market.
EnergyMyWay have offices around the UK, with headquarters near Oxford and provide independent, expert advice about renewable energy to communities, schools, homeowners and businesses.
EnergyMyWay are MCS accredited installers and members of the REAL Assurance customer code of practice, and are qualified domestic and commercial energy assessors and all trusted partners carry the appropriate accreditation.