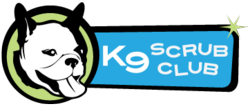 Not Your Average Neighborhood Dog Wash. Not Your Average Online Dog Store.
San Francisco, CA (PRWEB) December 03, 2012
K9 Scrub Club, San Francisco's neighborhood dog wash and premium pet store will be hosting a pet photography session with Jesse Freidin, fine art pet photographer. A portion of the proceeds will benefit the Ronald McDonald House of San Francisco.
Jesse Freidin is an acclaimed pet photographer in San Francisco and New York. His work has appeared in Vogue, Cosmopolitan, Everyday with Rachel Ray and Modern Dog among many others. He was voted best dog photographer in San Francisco for three consecutive years. He'll bringing his Polaroid Photo Booth to K9 Scrub Club on December 9th from 10am to 2pm to provide a memorable, signed photograph of your dog.
Each session is $25, with a portion benefiting the Ronald McDonald House of San Francisco, an organization dedicated to providing temporary housing and meals for families with a critically ill or injured child receiving treatment at a San Francisco hospital.
K9 Scrub Club will be raffling several great holiday gifts for pets at $10 a ticket with all of the proceeds benefiting the Ronald McDonald House of San Francisco.
Advance sign up for your pet's photo is recommended and strongly encouraged by contacting K9 Scrub Club directly at 415 648-2582 or email at info(at)k9scrubclub(dot)com. Walk in photos are welcome on a first come, first served basis.
K9 Scrub Club is located at 1734 Church Street in the Upper Noe Valley Neighborhood of San Francisco, CA.