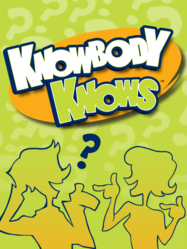 Even people that don't like games will like this. Points and strategies take a back seat to good old fashioned bonding.
Palatine, IL (PRWEB) December 10, 2012
The future of Mobile Party Games is coming Tuesday, December 11th, with the release of Knowbody Knows, the App. Knowbody Knows gives people an entirely different type of fun than word games and video games.
Every question is about someone in the group playing, and can be personalized to fit the group's personality. How much does Jim spend on (coffee, taxis, beer, Cubs tickets, etc.)? Knowbody Knows! But, once everyone has answered … guesses, any funny comments added, and points for that round are displayed. But, scoring takes a back seat to fun in this game, so the built-in Chat Room will certainly be used.
This app keeps old friends together, and helps new friends bond. In a sea of technology, Knowbody Knows lets you share fun, light moments with the people you love, and gives you a break from the every day.
Knowbody Knows, winner of the Major Fun Award for Party Games, is available at no charge, and is available on both iPhone and Android.