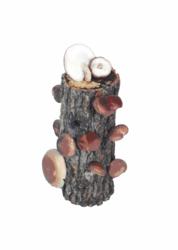 How's that for a Hanukkah or Christmas present? Fun, food, and feeling good. That's hard to beat.
Perkins, OK (PRWEB) December 04, 2012
"Imagine a world in which all beings are connected," suggests Sandra Williams, Ph.D., owner of Lost Creek Mushroom Farm, mushroom lover, and presenter on the benefits of mushrooms.
"The birds tell the mushrooms when the weather will change and it's time to push up through the earth or force their way through tree bark. The mushrooms, and not just the 'magic' ones, can deliver information about the natural world to the humans who share it. It is said that in ancient times when people ate tree ears, or black mushrooms, they would 'know' the course of the seasons because tree ears were the historians of the forest," the Mushroom Lady explained.
"In our world, people can eat certain mushrooms to help them heal from physical and emotional wounds."
"Shiitakes have an energy that increases our feelings of joy. In ancient days people ate them to heal grief, especially grief from the past and wounds of nurturing." Dr. Williams, who receives information directly from mushrooms added, "they say, 'we offer the finest and the highest vibration, for we are a way of dwelling in spiritual joy.' "
According to information in Robert Rogers' recent book, The Fungal Pharmacy: Complete Guide to Medicinal Mushrooms and Lichens of North America, shiitakes have an essence that "helps you to become more independent and adaptable."
"I find that amazing." Sandra said. "We think of shiitakes as food, high in protein, low in fat, and delicious. Science has demonstrated that they strengthen and stimulate the immune system, improve wound healing and are effective against some types of tumors. Now we know we can look to shiitakes for emotional and spiritual nurturing as well."
Lost Creek Mushroom Farm's shiitake log kits come in sizes from 6 to 14 inches high. They produce mushrooms every two months for years. Two logs will yield fresh, organic shiitakes every month. The logs are kept indoors like plants. Soaking them in nonchloriated ice water triggers the "fruiting" cycle, meaning that the cold water starts the mushrooms growing. After fruiting, the log must rest, digest more wood, and gather energy to fruit again. Soaking them in regularly every two weeks in room-temperature, nonchlorinated water keeps them fed and healthy.
To give your friends and loved ones the gifts of living shiitakes, you can order a shiitake mushroom log kit from Lost Creek Mushroom Farm at http://www.shiitakemushroomlog.com, or call 1-800-792-0053 for a free brochure. Lost Creek Mushroom Farm log kits are available on Amazon.com at slightly higher prices.
Lost Creek Mushroom Farm donates a portion of sales to The Voice of the Mushroom Foundation to promote small-scale mushroom production worldwide and encourage mushroom consumption for health and well-being. Mushrooms in Ghana Project, founded in 2007, provides production assistance and education for small-scale mushroom farming in West Africa.
"Shiitakes are not just for food!" says the Mushroom Lady. "Give your friends and family a new experience with the world of mushrooms: growing them, eating them, feeling better about the world and themselves. It's a way of interbeing with nature. What a great gift."