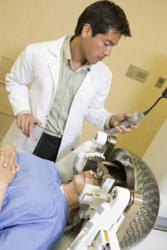 They can't pinpoint the major discrepancy as to why those without insurance are [so] severely disadvantaged.
Orange, California (PRWEB) December 01, 2012
Not all health care is created equal. Patients that have called about prices for procedures know this well.
But Dr. Quinones-Hinojosa, professor of neurosurgery and oncology at Johns Hopkins University revealed that in a review of over 28,000 medical records, ones without health insurance had a threefold chance of dying in the hospital, without information to back up why that is.
The report states that brain tumors cause approximately 13,000 deaths per year. And while they can't pinpoint the major discrepancy as to why those without insurance are so severely disadvantaged, they contribute part of it to the ability to see a doctor when a problem first becomes prevalent.
While those with insurance will be more likely to seek help as soon as there's an indication of a problem, those without will likely prolong care until the disease is too far advanced that the operation for the brain tumor isn't as successful as those that are detected early.
There are far more questions to ask before putting a finger on these answers, but one thing is certain, with health insurance, there's a higher rate of survival.
But health insurance is not always affordable. Or so it seems.
With today's everchanging landscape of health care, keeping a close eye on health insurance markets could mean the difference between life and death for a large number of Americans.
And those seeking to better their chances for survival should visit HealthCompare for more information and their free health insurance quote.
About
About Health Compare: HealthCompare was launched in 2009 to work with brokers and carriers to help individuals and families easily research, compare, buy, and enroll in the right health insurance plan at the right price. Based in Orange, Calif., it delivers accurate, customized, health insurance quotes for the country's diverse population.
Through a unique partnership with its sister company, CONEXIS, HealthCompare has the ability to quickly reach thousands of COBRA-qualifying consumers and provide them with COBRA alternatives at the moment they become eligible for COBRA benefits. This provides these consumers with an opportunity to enroll in individual or family plans and potentially save hundreds to thousands of dollars on COBRA premiums and, at the same time, rewards referring brokers with referral fee income for the life of each policy.
For more information, visit http://healthcompare.com/ or call 888.748.5152.