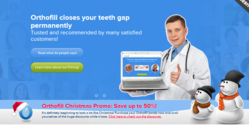 Ottawa On (PRWEB) December 03, 2012
Teeth bands are now being sold at very low prices for the third Christmas Promo offered by Orthofill, the leading provider for safe, less expensive, alternative and non-invasive solutions for teeth gaps.
For a limited time beginning December 2, 2012, Orthofill is offering more than 50% worth of discounts on their teeth band packages. With the onset of the shopping season, discounts mean savings for people who are preparing their budgets for presents and celebrations this Yuletide season.
This is the last leg of their Christmas promos for this year which comes at an opportune time: as the New Year closes in, Orthofill invites their potential clients to sport a new smile for 2013 in 30 days from the first use.
Using the tooth bands is simple: one only has to place one band over the teeth with a gap in between them and wear them for 12 hours overnight for the initial 30 days, until the gap is closed. To ensure that teeth stay in their new positions permanently, the bands should be worn round the clock for another 30 days thereafter.
Purchasing Orthofill's teeth bands is risk free. Clients get their money back 100% should they find results unsatisfactory provided that all instructions on usage were followed.
To find out how much savings one can make, visit Orthofill's pricing page.
For more information on the treatment of minor diastemas, proper product usage, treatable cases and other case studies, visit Orthofill at http://www.orthofill.com
For news and updates, like them on Facebook, as well as follow them on Twitter.
About
Orthofill is a company owned by Clicking Labs, Inc. With dedication and perseverance, they were able to bring together a team of multi-talented individuals to provide the world with creative and interesting marketing strategies to drive success to its clients. It has stations in Ontario, Canada and Cebu, Philippines.