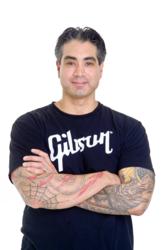 "From your first lesson, I will have you playing. And, I will inspire you to keep on playing. The guitar is not an easy instrument to play; but if you aspire to be an accomplished player; I can get you there."
Fort Lauderdale, FL (PRWEB) December 01, 2012
In just a few days the Mayan Calender prophesies that the world will end. Therefore Fort Lauderdale guitar teacher Dyce Kimura understands the grave urgency for those last minute sign ups to start their guitar lessons immediately. As a special introductory offer, Dyce is proud to announce a considerable discount on his guitar lessons for new students: ranging from just $50 to $60 an hour, depending upon the package that they select. Also if the student mentions this "End of the World" promotion they will get a free consultation as well. This free consultation is valid until Dec. 21, 2012.
Dyce's Fort Lauderdale guitar lessons can be purchased by the students themselves, or purchased as a gift. Students with no musical background are welcome, too: Dyce specializes in connecting with the absolute beginning guitar student. Lessons are provided at his state-of the-art home-office studio in Fort Lauderdale, convenient to Miami, Weston and Fort Lauderdale, or online via Skype.
Dyce Kimura is a premier musician, and Fort Lauderdale guitar teacher. Well-versed in all aspects of the current music industry, Dyce is hip to all of the latest music & technology trends, breaking artists, and contemporary gear. (Before Dyce committed full-time to teaching, he was an in-demand session player in Miami's competitive studio scene, recording with scores of hip-hop, rock, blues and Christian artists—and is a nationally-recognized authority on the blues guitar).
Nearly 15 percent of people worldwide believe the world will end during their lifetime and 10 percent think the Mayan calendar could signify it will happen in 2012, according to a new poll (Reuters). Dyce Kimura says, "You must sign up for guitar lessons-do it before it is too late." Whether the world actually ends on Dec. 21, 2012 or not, those individuals that have been putting off guitar lessons can respond to this opportunity to take advantage of Dyce's free promotional consultation.
Even for potential students who are not in the immediate Fort Lauderdale area can learn the guitar from Dyce via skype. He is offering top-flight Christian skype guitar lessons and specialized in blues and rock as well.
For more information on this promotional campaign contact Dyce at (786) 457-3687 today.