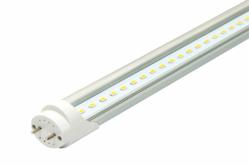 (PRWEB) December 10, 2012
Zhongtian Lighting, an excellent supplier of LED tubes, released the 22W T9 tube to replace the 40W traditional fluorescent lamp. The new product can help customers save money, and it can offer them good performance.
It is the ideal LED energy-saving lamp due to its low power consumption, low thermal radiation, high light efficiency and low attenuation. It has high CRI and is easy to install. Using brand LEDs, the LED tube delivers 1700-1900lm. Its weight is light and the light is pure. Besides, this model is UL, CE and RoHS approved, thus the quality is guaranteed. Zhongtian Lighting has engaged in providing consumers with more and more products, so as to meet various needs and offer innovative and environmentally-friendly products.
Zhongtian Lighting has expanded its production lines of high-quality LED tubes with dust-free lighting and several innovative options. By far, the T9 LED Tube Lights are the most popular products and are used in different places, ranging from lighting staircases, offices, and factories, to billboards and advertisements. The products which are also popular are the LED down light as well as the LED high bay light.
As an up-and-coming LED developer and manufacturer, Zhongtian Lighting is excited and encouraged by consumers' positive response to current product lines. It remains committed to offering the highest quality of LED lighting solutions. To learn more about Zhongtian Lighting's case-studies and their customers' application of products, please visit the company website at http://www.daoled.com/daoled.com/LED_Outdoor_Lighting/LED_Bay_Lights.