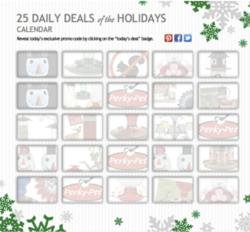 Start saving on bird feeders December 1st with the 25 Daily Deals of December!
Litiz, PA (PRWEB) December 01, 2012
Bird feeders, young and old everywhere are celebrating the holidays with deals galore! Tweet-Tweet, Merry Christmas, Feliz Navidad, Joyeux Noel... no matter how you say it, many look forward to this very special December celebration. This year, Perky-Pet® wants to celebrate with all bird-lovers by offering a 25 Daily Deals of December Calendar. Each day, beginning December 1st, there will be a valuable deal to use in the online store at Birdfeeders.com!
In the "days of old" people had various ways of counting down... lighting candles, chalk markings on the front door of their home, hanging photos, the list goes on. Perky-Pet® is counting down with a calendar of deals, and is once again, excited to offer traditional, and innovative bird feeders and accessories at generous prices for all types of birders.
If there's a bird lover on the list this year, take advantage of these limited savings and celebrate with one of the oldest and greatest bird feeding brands... feeding birds since 1958! There is something for every level of hobbyist, from beginners to advanced.
Got squirrel problems? No worries, Perky-Pet® has solutions for nuisances just like this. The array of squirrel proof feeders is the largest, from weight activated, caged, and pole mounted, to decorative, and limited editions.
There are specials for hummingbird enthusiasts as well. The hummingbird gift ideas range from $5 up to $60, so there are a variety of price points, no matter what the budget. Glass feeders, decorative, Top Fill, and bottom fill, are just a few types of hummingbird feeders on special this month.
Design a bird feeder with the Perky-Pet® Design-A-Feeder tool that allows you to make either a seed or hummingbird feeder. Choose from various colors, feeder shapes, and materials. Once the feeder is complete, add a few accessories to the order, such as hooks, poles, hummingbird nectar, and so on.
Site wide specials, seasonal products, and gift sets are just some of the items being offered this year. Perky-Pet® is also giving away a few secret gifts with purchase - don't forget to visit the calendar each day to find out.
About Perky-Pet®
Perky-Pet® brand is a trusted name to bird lovers, with high quality, functional feeders that address the demands of both bird hobbyists and enthusiasts alike. A good resource for just about every wild bird need is right at your fingertips. Visit the Perky-Pet® website http://www.birdfeeders.com to learn more about bird watching, bird feeding tips and tools, and ways to attract birds. Perky-Pet® is a registered trademark of Woodstream Corporation, a long-standing, privately-held company and leading manufacturer of quality-branded rodent control products, caring control products for pets and wildlife, natural solutions for lawns and gardens and wild bird feeding products.
# # #