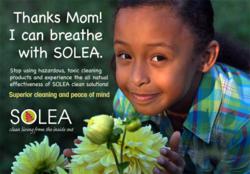 What can I say? As clean as I want my home, I want my planet clean, too. SOLEA satisfies all my needs: natural clean that doesn't pollute…and man, does this stuff work!
Philadelphia, PA (PRWEB) December 03, 2012
Did you know that conventional cleaning products typically contain carcinogens, toxins, endocrine disruptors and other ingredients that can be harmful to human and pet lungs, liver, kidneys, skin, eyes and noses? SOLEA is an acronym -- Schools for Organic Living and Environmental Awareness, stating the mission of the company and its principals, right up front – to rid our schools and communities of toxic chemicals and get them really clean. Co-founders Laura Lomax and Michael Ledbetter began this social venture last year but it was many years in the making.
While Chef and owners of Soul Vegetarian West Restaurant in Los Angeles, Michael and Laura met many 'tree huggers' and recommitted to their mandate of doing good while doing well. "This is my parent's mantra so although my father was a very successful physician and entrepreneur, they have always given much to underserved communities, institutions and individuals in need," said Lomax. While others may frown at the idea of a social venture, Lomax and Ledbetter are confident that is the only way for a business to achieve sustainable success it must be a true win-win for people, the planet and stakeholders.
The team saw the growing demand for 'green' products and their inner activists were compelled to address the issues of ecoliteracy and consumerism. While Lomax had a 20-year career in community health care and was reared to be an advocate for holistic living by a doctor father and organic farming mother, Ledbetter's background instilled a sort of perfectionism mixed with determination. From working on research and development of strategic weapons as a programmer and systems analyst, Ledbetter did a 180 to promote living in harmony with each other and preserving our precious planet. Ledbetter's drive combined with Lomax's health advocacy has resulted in an effective yet true green cleaner made from plant-based, food grade ingredients that contain no toxic ingredients.
It has been challenging to remain 'green' as a new business – making decisions consistent with our standards and spending more to achieve higher value for our customers. The greatest feat was finding the right manufacturer who could create non-toxic chemicals that really cleaned (most eco friendly products leave consumers disappointed and craving the harsh conventional cleansers.) After much due diligence they found the perfect chemist who created the most effective plant-based commercial products using a proprietary process that disperses and dissolves dirt, germs and stains. His 60,000 square foot plant was a mere 50 miles from their corporate offices in Chalfont, PA and meets all of our criteria for a business partner, including becoming completely solar powered within 18 months.
SOLEA products combine forward thinking research with proprietary chemistries, to create effective and environmentally friendly solutions that address a variety of residential and commercial cleaning challenges. SOLEA's locally made, plant-based cleansers include multipurpose cleaner, dishwashing liquid, glass cleaner, multipurpose spray, laundry detergent, and fruit/vegetable wash. SOLEA bottles are made from 96% post consumer content, the sprayers contain no metal and the liquids biodegrade completely within 28 days.
Watch Christina Pirello, teacher and Emmy Award winning Chef of PBS' 'Christina Cooks' praise SOLEA products and mission. Christina says ''I am genetically wired to love cleaning. What can I say? But as clean as I want my home, I want my planet clean, too. SOLEA satisfies all my needs: natural clean that doesn't pollute…and man, does this stuff work! I'm practically in love with the Citrus Laundry Liquid."
Our work extends from online to in the community to our on air presence - The Green Hour radio show. As part of our outreach, SOLEA principals and Naturopath Paul Hopkins, N.D. host a weekly radio program on 900AM WURD called The Green Hour where they discuss health and sustainability with local and national leaders in the sustainability movement such as Annie Leonard (The Story of Stuff) , Christina Pirello (Christina Cooks), and Maurice Hampton (Recycling Philadelphia).
SOLEA continues its inside out approach to spreading sustainability. Coming in December 2012 -- a complete body care line.