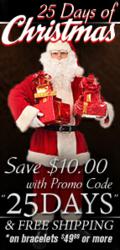 Sikeston, Mo (PRWEB) December 04, 2012
In the spirit of helping consumers stretch their holiday shopping budgets, Sabona of London is launching its first-ever "25 Days of Christmas" website special campaign!
From December 1st through the 25th, all bracelet purchases of $49.99 or more made through http://www.sabona.com will include a $10 discount PLUS complimentary ground shipping. (Order by December 17 for Christmas delivery.) Additional holiday specials are already available on Sabona's USA Facebook page.
With plans to unfold a dynamic new Facebook presence in anticipation of the new year, Sabona's Facebook page will regularly offer brand new giveaways, special promotions and sneak peeks of its much-anticipated new styles yet to be revealed in the 2013 catalog.
Catalogs will be available after the start of the new year; to reserve in advance, visit https://sabona.com/request-brochure.
About Sabona of London Unlimited, Inc.:
Sabona of London, Inc., established in 1959, has a long history as the premier manufacturer and marketer of copper and magnetic jewelry worldwide! The expanded Sabona product line includes Copper Magnetic Bracelets and Stainless Steel Magnetic Bracelets as well as Pro Magnetic Sport silicone wristbands and Sabona Athletic Bracelets, a line of fabric magnetic bracelets. In addition to magnetic bracelets, Sabona offers Copper Thread Supports, a line of supports for the knee, ankle, elbow, etc. that feature 5% copper thread in the fabric.
Contact: jstallings(at)sabona(dot)com
800-497-4199
http://www.sabona.com