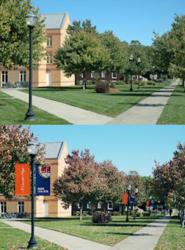 Kalamazoo, MI (PRWEB) December 03, 2012
As a way of expressing pride and identifying themselves, the communications staff at Hope College in Holland, Mich. decided to have 38 sets of banners installed by Kalamazoo Banner Works (KBW) across campus.
To tackle this project, a sales team from KBW worked with the communications staff at Hope College to establish a plan. Cost and technical information, such as what type of banner hardware to use and whether the banners should be screen printed or digital, were discussed along with ideas surrounding design. The college, who had an idea in mind, provided a design created internally for KBW to work with.
Once the basic style and design decisions were made, light poles across campus that would feature banners were selected. Then came calculating height and shape of cross-section poles.
KBW used digital photos of campus to propose banner locations and provide the communications staff at Hope College with a "before and after" visual. The company also recommended an appropriate size for the banners and proposed that their BannerFlex banner brackets be used with the college's ornate light poles. KBW also helped the college decide on digitally printed banners.
All the planning led into the final process: banner creation and installation. The end result of this large project is 38 sets of two banners per light pole displayed throughout the Hope College campus.
According to the college, "The banners look great! We have received rave reviews upon installation of the banners and are currently reviewing putting up new banners in 2013."
KBW, which is located in Kalamazoo, Mich., has been in business for almost 30 years. The company provides both digital and screen-printed banners and banner hardware. They serve organizations locally, across the country and internationally.
KBW is a client of Blue Fire Media, a company located in Portage, Mich. Blue Fire Media specializes in Web design, internet marketing and search engine optimization.