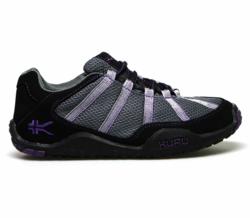 Salt Lake City, UT (PRWEB) December 03, 2012
KURU Footwear – a pure-play, web shoe brand – announces with it's Q3 and Q4 numbers, higher customer satisfaction and a lower return rate than ever in it's fourth year of business. It credits this reduced customer dissatisfaction to its unique B2C strategy. Unlike other shoe brands that sell primarily through bricks-and-mortar channels, KURU sells exclusively online. In so doing, the company has leveraged its direct to consumer model to remove the pitfalls of cross-channel shopping.
Cross-channel shopping occurs when a consumer researches a product online and then goes to a brick-and-mortar store to purchase. With the abundance of information available online for nearly any product, cross-channel shopping, along with showrooming, has become increasingly common.
Recent studies have discovered that less than two-thirds of customers purchasing footwear through cross-channel shopping are satisfied with the product. Customer dissatisfaction resulted from missing inventory information, inconsistent prices, and difficulty finding the desired product in a physical store.
When KURU launched a few years ago, the company sought to eliminate these problems. In so doing, they committed to focusing exclusively on one distribution channel, the web. This strategy has become the surest way for the company to create superior customer experiences.
"When you go to a brick-and-mortar store, you never know what you are going to find," said Bret Rasmussen, KURU President and CEO. "It's difficult to know if you are getting the best price, if the shoe you've chosen is the what you need, or if you can find a better selection elsewhere. At KURU, we have removed all those questions from the shopping process. When you are on our website, you have the confidence that you are getting the best price, the broadest selection and the most accurate information because only one place in the world sells KURU, our website."
Another way the company is improving the experience is by offering KURU GURUs who are experts in not only KURU's products, but also savvy in helping customers make the best purchasing decision. The company boasts that its GURUs are so good at consulting with customers to get the best fit that less than 15% of shoes purchased need to be exchanged for a different size.
Visit KURU Footwear for more.