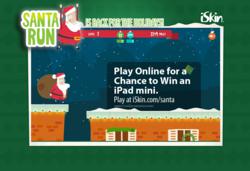 We received such a high demand for this contest that we just had to bring it back. It's important to iSkin that everyone has fun while winning some fantastic prizes this Holiday
Toronto, Ontario (PRWEB) December 07, 2012
iSkin, a premium brand of fashion and technology lifestyle accessories, announces the return of its most popular contest of the year. The iSkin Holiday Santa Run is a free, play-to-win online game that rewards the top player with an iPad® mini.
Thousands of players signed up for the Holiday Santa Run contest last year, and over 30,000 games were played, with the top scorer earning 168,666 points. Second and third place winners also received iSkin products, ranging from premium travel bags to other mobile accessories.
"We received such a high demand for this contest that we just had to bring it back. It's important to iSkin that everyone has fun while winning some fantastic prizes this Holiday," says Andrew Ackloo, the CEO of iSkin.
The iSkin Holiday Santa Run Game Contest will run until December 24th 2012 at 11:59pm EST. The game can be found at http://www.iskin.com/santa/.
The top scorers will be selected shortly after contest closing and will be contacted to claim their prize.
About iSkin Inc.
iSkin Inc. has been one of the world's most trusted mobile accessory brands since its first advanced protective solution for the iPod® in 2002. Known for its cool, innovative designs and fashion-forward style, iSkin continues to be the leading mobile accessory brand. iSkin continues to focus on delivering the highest quality, innovative design and fashion-forward style in accessories for Apple®, BlackBerry® and now Samsung®.
The iSkin word mark and logo are registered trademarks of iSkin Inc., registered in Canada, the United States and other countries. All Rights Reserved 2006-2012. Apple®, iPad® and iPad® mini are trademarks of Apple Inc., registered in the U.S. and other countries. Other company and product names mentioned herein are registered trademarks of their respective companies.
For further information contact:
Press(at)iSkin(dot)com