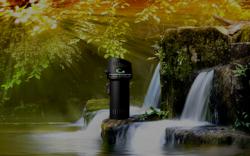 "Containers must be disposed as a hazardous waste" -Department of Energy Report on EPA Rules and Regulations.
Scottsdale AZ (PRWEB) December 05, 2012
Business is changing. More and more companies are creating "Green Teams" tasked with finding ways to do business with less less impact on the environment, employees and bottom line.
The new focus is on:
-Sustainability
-Employee Safety
-Cutting costs without cutting effectiveness
02 Hurricane CEO and Founder John Scherer says getting rid of canned air is a good place to start.
"It's a no-brainer," says Scherer. "Canned Air is wasteful. It's effective use time is very short, it contains documented and very dangerous chemicals plus there's the additional cost of the safe disposal of used cans."
A Department of Energy Reports states: "Using canned air for purposes such as keyboard cleanings, is problematic because EPA classifies canned air as a cryogen and an explosive. As a result, containers must be disposed as a hazardous waste under Resource Recovery and Conservation Act (RCRA) and Department of Transportation (DOT) requirements.Federal, State and local laws mandate proper disposal."
That means extra cost for anyone using and having to dispose of canned air.
"Businesses are finally reading the warning labels on canned air dusters and seeing what's really inside the can." says Scherer. "The 02 Hurricane doesn't need a warning label because it uses pure air."
Another advantage is the 02 Hurricane is rechargeable like a cell phone. It can be recharged and used hundreds of times. No hazardous waste.
"The 02 Hurricane can save a business thousands of dollars over using canned air dusters and similar products," Scherer says. "Our canless air system gives companies a chance to green up the workplace and save green doing it."
The 02 Hurricane draws in the air around it, and blasts it out at over 200 mph to clean dust and debris from computers, delicate electronics and anywhere dust gathers at work or home. In the home it can be used to dust plants, collectables and anywhere else dust collects. Unlike canned air, it doesn't leave chemical residue on things like camera lenses or any sort of surface. The 02 Hurricane is light weight and very portable. Charging is easy.
The 02 Hurricane is assembled in Tucson, Arizona. Learn more about this new and revolutionary canless air system at http://www.CanlessAir.com.
Media Contact or to arrange a product review:
Brian Olson
Conversation Starters Public Relations
brian(dot)olson(at)starttheconversations(dot)com
303-726-4044