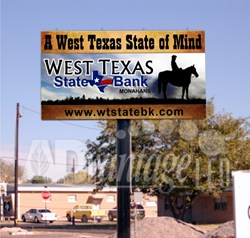 Houston, TX (PRWEB) December 03, 2012
ADvantage LED Signs is announcing to the public today of the completion and installation of an LED Billboard in Monahans, TX. The town is using the Digital Billboard to advertise local businesses, which in turn helps grow the local economy.
Richard James, media contact, was asked about the project in Monahans. "We worked with the mayor of Monahans, which is a growing Texas town, to secure this purchase. Their new Digital Billboard is allowing businesses to advertise in the downtown area in an effort to boost and grow the local economy. Once the LED Billboard was installed, we made sure everyone was trained on the LED Billboard software so they could effectively use the billboard to get the best results."
Mr James also added, "The software that comes with the LED Digital Billboards is complete. It has everything needed to quickly change ads by scheduling them at fixed times. In addition, the software has a built-in encryption to ensure secure data transmission and has the ability to run billing and performance reports. The non-LED Billboards can still be found in rural areas or even downtown in some cities and towns, but changing the banners is expensive and difficult, which is why digital billboards have become so popular. We know billboards get attention and are effective ways to advertise. This has been proven, even with the old-fashioned signs, but our LED billboards are big, bright, and definitely easy to read, which can help local economies in a very positive way as it has for Monahans, TX."
When asked about the difficulty in obtaining nationwide permit acquisition, Mr. James said, "An LED Billboard permit is one of the most difficult to acquire and because of this we have built a network of professionals around the U.S. that will decipher complicated sign code laws and apply for the permit with all the necessary documentation. We have the means and the know how to really make a difference in local economies and through this effort the economy can also be strengthened throughout the country, one small town at a time. We are excited to be receiving more interest from towns and investors around the country looking at what our LED Billboards can do."
Suppose a small town doesn't know how to go about creating ads to showcase on their billboard, Mr. James was asked. "We actually offer a content creation service that helps anyone who is not quite sure how to get started. We have our own team of designers that create the perfect ads to showcase the local businesses in their best light. We even have a new software solution where our clients can request professionally made ads right through the software interface with an approval process and automatic scheduling. We are very excited about this revolutionary way of advertising." Mr. James said.
About ADvantage LED Signs
ADvantage LED Signs has been producing some of the best and most effective LED Billboards since its founding in 2009. This is a US company that sells directly to businesses both locally and nationwide. Since day one, they have always stressed that no job was too big or too small for them to take on. The company has always been a complete turn-key solution provider.