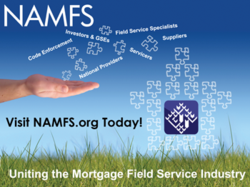 Stow, OH (PRWEB) December 13, 2012
The National Association of Mortgage Field Services (NAMFS) was founded with the intent of cultivating the mortgage field service industry through a variety of mediums including the support of continuing education. The Association began a training and certification program to help this effort. Since the programs inception in 2010, the industry has undergone a significant amount of change. NAMFS collaborated with regional and national members to ensure the latest data and techniques are used to create the program. The NAMFS Academy will soon be releasing an updated and expanded version of its training and certification program to coincide with the new year.
This release will increase the available certifications from two to five, covering all aspects of the mortgage field service industry. It will also use multiple training techniques from the written manual to slideshow presentations and training videos. This certification will set a new standard for trained and qualified field service technicians that is needed within the industry. The program includes all the training materials, a certificate and a photo identification card with QR code verification to those who complete the requirements. The certification will be available on NAMFS.Org to all NAMFS members at a discount price.
Beginning with General Industry Basics, the program will take participants through the life of a loan and educate on the fundamental requirements to provide the service level required of field service companies, servicers and investors charged with handling these properties. The Inspections module will outline the basic types of inspections, specialty inspections and their unique requirements. Pre-Sale Preservation will cover the services required to preserve the condition and value of vacant properties while protecting them from damage, vandals and/or the elements prior to foreclosure sale. Post-Sale Preservation offers insight into the guidelines and expectations associated with properties in the REO (Real Estate Owned) re-sale market. Finally, Recurring Services provides the basic guidelines and best practices for the completion of services that are regularly repeated including winterization, yard maintenance and cleaning.
The Association is truly committed to the improvement of the mortgage field services industry through education. This program offers companies that utilize it the chance to outsource general education while focusing on client and company specific training. It also gives graduates and those that contract or employ their services a clear differentiation from their competitors and visibility with some of the top mortgage field service companies in the nation.
More information regarding the NAMFS Training & Certification Program program will be available soon on NAMFS.org. NAMFS will continue to develop further training modules with Property Management as the next identified Certification to be released later in 2013.
About NAMFS
The National Association of Mortgage Field Services, Inc. (NAMFS) is the premier trade association for the mortgage field service industry. We are dedicated to working with all entities of the industry from the Government Agencies and investors that set policy to the contractors and inspectors that perform the work.