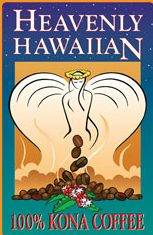 Heavenly Hawaiian, is the USA's best 100% Kona Coffee brand!
Los Angeles, CA (PRWEB) December 05, 2012
Heavenly Hawaiian Farms, is a 38 acre Heavenly Hawaiian Coffee Farm, that is truly a paradise. It is surrounded by a beautiful array of colors, flowering plants, coffee trees, birds, the ocean and Kona Bay. The logo captures the heavenly vision. Every coffee bean poured out from the Angel's hands or is the idyllic Angel formed from the steam and aroma is the roasting beans.
The farm has one numerous awards and it currently the winning of the 2012 cupping award in the state of Hawaii. This farm is processes some of the best coffee in the world. Please review the following awards.
The judges agree that Heavenly Hawaiian Coffee Farm (HH) and The Other Farm (TOF) 100% Kona coffee tastes like Kona coffee should. For three years running, TOF received 1st Place, Finalist, and Honorable Mention in the Kona Coffee Cupping Contest.
Cupping Awards - TOF:
2000 - 1st Place Cup for the Millennium - Kona Coffee Cupping Contest
2001 - Honorable Mention - Finalist - Kona Coffee Cupping Contest
2002 - Honorable Mention - Finalist - Kona Coffee Cupping Contest
2004 - 1st Place - Kona Coffee Cream of the Crop Cupping Competition
2012 - 1st Place Kona and State - Hawaii Coffee Assoc. Cupping Competition
Cupping Awards - HH:
2006 - 3rd Place - People's Choice - Kona Coffee Cream of the Crop Cupping Competition
2007 - 1st Place - People's Choice - Kona Coffee Cream of the Crop Cupping Competition
2008 - 1st Place - People's Choice - Kona Coffee Cream of the Crop Cupping Competition
2009 - Finalist - Hawaii Coffee Association Convention Cupping Competition
2010 - 3rd Place - Chef's & People's Choice - Cream of the Crop Cupping Competition
2010 - 1st Place - Peoples's Choice - Holualoa Coffee and Art Stroll
2011 - 2nd Place - People's Choice - Cream of the Crop Cupping Competition
Contact: David Bateman
email: coffee(at)heavenlyhawaiian(dot)com