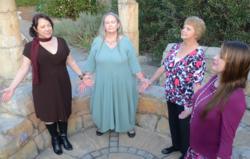 It was the largest, most incredible get-together of top professional psychics in one place that we've ever had.
Langhorne, PA (PRWEB) December 03, 2012
If you were anywhere in or around Virginia Beach the week before Thanksgiving, you might have felt the extra energy, the unusual vibrations, the something-special in the air created by a truly extraordinary gathering. No, not another surfing championship or a post-election support group for fired campaign managers. Unbeknownst to most of its inhabitants, the popular Chesapeake Bay resort town was host to a high-energy get-together of gifted professional psychics.
For an entire week, 25 top psychic advisors from Psychic Source, the most respected psychic service since 1989, gathered in a beautiful beachfront property to share experiences, expertise and stories.
"It was the largest gathering of psychics that we've ever had," said Jeni Alexander, a Psychic Source Director of Service Delivery who attended the event. "It was one of the most incredible groups of people I've ever spent time with: so intuitive and in tune with each other and everything around them," Mrs. Alexander said. "And they have some pretty amazing stories."
Aina Jean, one of the gifted psychics at the gathering, told about how she has worked with police in Philadelphia and Michigan to locate missing persons and find bodies. During the week of the psychic gathering, she was able to prove her prowess. "We were expecting a package," said Mrs. Alexander, "but it never arrived. Without even knowing that the package was expected, Aina Jean said that she sensed there was a delayed delivery and told us where to find it. And she was right!"
Mandy, another long-time love and career psychic, is a gifted psychic medium who is able to see past-present-and future events unfold. Recently, she told the group, she recorded herself describing a man to the police in a case involving the theft of expensive Persian rugs. When they examined the security cameras at the scene of the crime, a man exactly fitting Mandy's description was found.
"Having all the psychics together along with Psychic Source staff was an unforgettable experience," Mrs. Alexander said. "It allowed us to form bonds of trust and friendship and strengthened our commitment to the Psychic Source family. I can't wait for next year's event!" she concluded.
***
About Psychic Source:
Founded in 1989, Psychic Source is the nation's oldest and most respected psychic service. Psychic Source's advisors are experts in astrology, horoscopes, numerology, tarot cards, clairvoyant readings, and many other psychic disciplines. Psychic Source believes in its community of authentic Psychics and stands behind the authentic psychic readings they deliver to clients. Visit them online at http://www.psychicsource.com.
For more information, contact:
Maryanne Fiedler, Marketing Director
maryanne (at) psychicsource (dot) com
215-953-8568