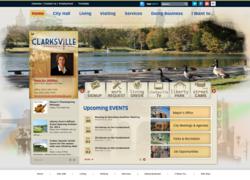 It gave us a sense of security knowing that Vision Internet had created so many wonderful working websites for other great cities.
Clarksville, TN (PRWEB) December 05, 2012
The City of Clarksville has built a new website that the whole community can be proud of. Accessed at http://www.cityofclarksville.com, the website was launched in August and has incorporated government website best practices to improve overall usability.
"When deciding on a new website for the City an efficient content management system was needed with a great design", explains Tamara Streng, Web & Applications Developer for the City of Clarksville.
"We are very happy with the final site; it was an easy transition, the design is unique using Clarksville's landmarks which are very inviting, and all the departments are now able to update their own content keeping the website up to date."
The once dull website has been transformed into a modern, contemporary design with vibrant colors, a clean layout, and beautiful community photos. Meanwhile, playful fonts and graphic icons invite users to explore further.
New interactive features were added to the website to make it easier to navigate the site. This, in turn, has greatly enhanced the overall user experience. Content has been updated and categorized into intuitive main navigation dropdown menus, making it simple to explore the site's online services. Some of these services help citizens and visitors to:

Submit and track service requests
Apply for job openings at the City
Sign up for eNews updates
Pay traffic tickets
Easily locate contact information for all City workers
Stay connected with the City via social media (Facebook, Twitter, etc.)
And more!
The deadline for this project was crucial due to the looming end of the budget year. In order to create the most effective website possible in this short time frame, the City chose to partner with the longtime experts in government website development, Vision Internet.
"Vision Internet is an established leader in government website development," explains Streng. "When we needed a new website built for the City of Clarksville it gave us a sense of security knowing that they had created so many wonderful working websites for other great cities."
The new City website runs on Vision Internet's powerful government content management system, the visionCMS™. Over 500 local government, education, and non-profits have selected the visionCMS™ as their content management system because of its powerful tools and easy-to-use interface.
Over 20 City staff members have been trained to make updates to the Clarksville website using the visionCMS™.
To learn more about the government CMS and website best practices that have transformed the City of Clarksville website, please request a free online demo of the visionCMS™.
About Vision Internet:
Vision Internet is the national leader in government website development with nearly 500 government, non-profit, and education clients across the US and Canada. Over the past 16 years, Vision Internet has been creating industry-defining websites for communities ranging in populations of less than 1,000 residents to more than 5 million. Widely recognized as the government website experts, the company has earned hundreds of prestigious industry awards for its unique websites.