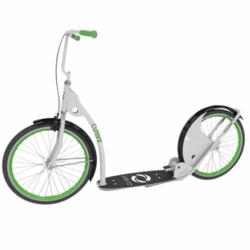 Current Coasters fits in well with the Dazadi.com product offering.
Los Angeles, California (PRWEB) December 02, 2012
Current Coasters has awarded Dazadi.com as the exclusive e-commerce retailer of their world-class Coasters™ (aka "kick scooters" or "scooter bikes"). With exceptional attention to detail and quality, the coasters make a nice addition to Dazadi.com variety in recreational goods during peak season.
"We were happy to add this level of product to our offering. Dazadi.com remains focused on offering a curated selection of the best products from top brands around the world. Current Coasters fits within our offering. With our cycling category up 87% this year, Current Coasters will be in front of the right aligned audience and traffic situated among other complimentary brands." Says Elan Klaristenfeld, Co-Founder and EVP of Sales & Marketing.
Current Coasters started as an idea on a bar napkin in 2012 and has become the exclusive purveyor of coasters. Unlike "kick scooters" or "scooter bikes" coasters provide riding for the recommended age of 14 years and older.
Dazadi.com, a Los Angeles based e-commerce company, began as a company selling basketball hoops and equipment and now sells home recreational products in the following categories; Sports & Fitness, Arcade Games, Game Rooms, Toys & Games, Backyard & Patio, and NBA Licensed products.
##
Founded in May of 2002 by four brothers, Dazadi.com is a specialized online retailer of home recreational products. Dazadi.com sells over 10,000 unique items for the home including game room equipment (pool tables, air hockey tables , foosball tables), home gym equipment (treadmills, stair climber machines , smith machines, yoga equipment), patio furniture, board games, bicycles, basketball hoops and other home recreational products. Dazadi.com constantly strives to live up to its tagline, "The Home of Awesome," by carrying only curated, hand picked, awesome products.