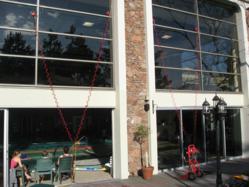 BCTWR can make a foggy window repair and solve condensation problems for a fraction of the cost of replacement windows.
Vancouver, BC (PRWEB) December 03, 2012
Vancouver-based BC Thermal Window Restoration (BCTWR) is a window restoration company. Window restoration provides a far more economical route to regaining crystal clear windows than full glass replacement. Customers can save the time, money and hassle involved in full window replacement and simply have their foggy windows repaired instead. BCTWR is the only company that actually drills and dries windows, rather than simply recommending replacement.
Owner Scott Johnson was one of the first five people trained to 'defog' windows in Western Canada and is the only one of the five still operating in BC.
"Our mission is to provide a cost-efficient and highly effective alternative to replacing your windows," says Johnson. "BCTWR can solve your window condensation problems at a fraction of the cost of installing new glass."
Home or office buildings windows provide views of the outside world, a view that- in beautiful British Columbia– is often magnificent. They also provide the first impression of homes or businesses to people on the outside, with clear windows playing an important role. Unfortunately, given Vancouver's damp climate, foggy windows are all too common. To relieve the problem, BCTWR provides a moisture removal service that is fast and effective, without the need to remove the glass, or the cost of replacement windows.
BCTWR's unique foggy window repair process removes the moisture from thermal pane windows, leaving a dry window that will likely have a better thermal efficiency or 'R' rating. The company's trained technicians drill tiny holes in foggy windows, allowing them to dry between the panes of glass using compressed air and a three-stage desiccant filter drying system. Then, a one-way valve is installed, allowing any remaining moisture to escape but none to enter. Moisture will never return!
BCTWR offers complete window restoration including: moisture removal, replacements at competitive prices (in unique instances when windows are not candidates for restoration) and preventative maintenance. For window repair Vancouver, please visit http://www.bctwr.com.