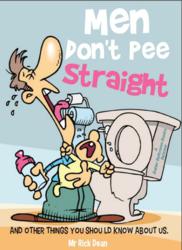 So why award a brief, near comic book publication with a 5 star rating? Because in its genre, it is one of the best pokes at maleness and machismo that has appeared. Grady Harp, Los Angeles Book Review
Islamorada, FL (PRWEB) December 05, 2012
In "Men Don't Pee Straight: And Other Things You Should Know About Us" (ISBN 9780615642154), Rick Dean reveals that most of the stereotypes women hold about men are true. Illustrated with hilarious cartoons, this laugh-out-loud book will leave readers in stitches.
Frank and humorous, this tongue-in-cheek volume is unafraid to show what men do best and what they do worst. Dean was inspired to write down his comedic observations after looking at his life. He realized that in his actions and habits, he fulfilled most of the negative preconceptions others have about men. So the author embraced his boorish manliness with cartoon illustrations. These findings have garnered further attention with Dean's appearances on FOX and NBC TV stations as well as radio shows across the country.
"Deep inside, everyone understands the reality," says Dean. "The best you can do is simply grimace, take note, and perhaps manage a smile."
"Men Don't Pee Straight" is chock full of habits, quirks and tics about men that you have always known but cared not to understand or fully accept. Many patient mothers, girlfriends and wives hope their man's oddities will simply change at some point. This book confirms that deep inside, men never will.
Dean is unafraid to expose his own ineptness at cultivating long-lasting romances with the fairer sex. After blundering through one relationship after another, he has come to a profound and moving understanding of how not to keep a girlfriend happy. So he shares his insights, or, at least, what guys like Dean can claim as insights.
"Men Don't Pee Straight" is a blunt, honest and comedic book for the woman who continues to tolerate (lovingly, of course) the man in her life. With cartoon illustrations and a hilarity of multiple choice selections to keep track of the many manly blunders, "Men Don't Pee Straight" is sure to bring a smile.
"Men Don't Pee Straight: And Other Things You Should Know About Us" is available for sale online at Amazon.com. It is the first book in a series of Bathroom Books that are sure to corner the bathroom book market (because everyone must know that the bathroom is no place for e-books).
About the Author:
Rick Dean earned a bachelor's degree from John Hopkins University, majoring in engineering and minoring in philosophy. He pilots his own aircraft for a number of humanitarian organizations such as Angel Flight, Grace Flight and various Haitian relief efforts.
MEDIA CONTACT
Rick Dean
E-mail: rickdean(dot)books(at)gmail(dot)com
Phone: (321) 250-2620
REVIEW COPIES AND INTERVIEWS AVAILABLE