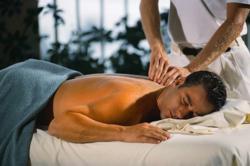 Shear List believes that continuing to add to the types of products we offer is essential to us realizing our goal of being the single-most recognized online resource for wellness and image professionals", adds the CEO.
Washington, DC (PRWEB) December 11, 2012
The Shear List website and its accompanying free mobile app have been well received and have generated tons of excitement from professionals and consumers alike, it is in this spirit that Shear List now adds health and fitness professionals, specifically targeting personal trainers and massage therapists as the year draws to a close and consumers are beginning to think about New Year 's resolutions regarding their health.
"If you offer or require services from either of these new areas, Shear List is the place to visit or Get Listed", says Shear List CEO. "During our initial launch of the Shearlist.com website, we targeted hair care (image) professionals, specifically stylists and barbers, and we continue to increase the number of stylists and barbers who sign up on the site every day. So, we are not decreasing or removing that service, rather we are adding to the types of products the site offers. Health and Fitness are two additional product areas that consumers can expect to receive from the site and the mobile app as well. And, as with all our products, once a professional signs up on the Shear List website, their listings are automatically and simultaneously included on the free mobile app as well, allowing them to instantly take advantage of other services of interest to them, and be located by consumers", states the company's CEO.
The site's newly added product, personal trainers and massage therapists, are often not considered part of the health care community, but Shear List wants to change this perception. Personal trainers are obvious fitness professionals, however, Shear List sees them as so much more. Personal trainers are heavily involved in health in many different aspects, from conditioning of major organs like the heart and lungs, to increasing muscle tone and decreasing body mass index. Personal trainers are also often trained in nutrition and diet as well. Shear List views the personal trainer profession as a well-rounded profession and thus they want to offer its site visitors these services, which means they want personal trainers to Get Listed on the site.
Massage therapy and access to its services have advanced significantly since its genesis. Once considered a disgraceful form of healing, today massage therapy is highly regarded as a successful form of holistic healing that is known for its relaxing properties, offering both stress and pain relief. And, best of all, instead of only being accessible by the affluent, massage therapy is accessible to anyone and can be administered in a professional medical/therapeutic setting or at consumers' private residences. The benefits of massage therapy are endless.
"Shear List believes that continuing to add to the types of products we offer is essential to us realizing our goal of being the single-most recognized online resource for wellness and image professionals", adds the CEO. By adding these two additional product areas targeting health and fitness professionals and their clients, Shear List advances closer to realizing its goal of becoming the premier online listing service for personal service professionals and the premier locator service for consumers.
Shearlist.com and its mobile app are projecting to be the preferred resource for those offering products/services or looking for products/services that strengthen the mind, body, and spirit. Shear List imagines their services being used by consumers to locate a personal trainer for an individualized workout, then perhaps going on to locate a massage therapist to relax those sore muscles, followed by securing a hair stylist/barber's appointment for a hair due or a hair cut, and finally a hiring a fashion designer/personal shopper to design or purchase a dress or suit for a night out on the town – likely all in the same week (or day). Shear List is poised to be the one-stop shop for all things 'personal services'.
Be sure to visit the Shear List website to see all the exciting products that are offered. Also, check out and download the free Shear List Mobile App now in the App Store and Marketplace. There are many exciting features on the mobile app. Both iPhone and Android are registered Trademarks of Apple and Google, respectively.
About Shear List
To learn more about Shear List, visit the website and download the mobile app.