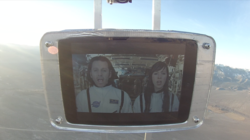 As a full-service solution provider, ArmorActive is focused on meeting the kiosk needs in every industry.
Salt Lake City, UT (PRWEB) December 04, 2012
In order to test their newest secure iPad enclosure and iPad kiosk app, the ArmorActive marketing team devised a plan to send the Strata enclosure for iPad Mini into space.
For this extreme test, the Strata enclosure was engineered with insulation and electronically controlled heat pads, and the Video Photo Looper app was installed on the iPad Mini to display a looped video to confirm its uninterrupted operation. The enclosure was then secured to a large weather balloon. The marketing team researched climate variables, determined a safe place to launch, and filed a flight plan with the FAA. Before sunrise, on November 19, 2012, they successfully launched the iPad Mini enclosure to over 100,000 feet, before it landed back on earth 100 miles from the launch point, three hours later. The ArmorActive team was amazed to find the iPad Mini still in operation and looping video. Working together, ArmorActive's tablet kiosks and apps provide comprehensive solutions for on-site video display for businesses, that are secure in even the most extreme conditions.
The Video Photo Looper app is an ArmorActive app that provides a simple, easy to use platform for any iPad or iPad mini to display video or photos in a continuous loop. With a very basic user interface, any business can quickly and efficiently set up an iPad kiosk as digital signage in a hotel lobby, restaurant, trade show, etc. The Video Photo Looper app includes unique features such as: password restricted access to settings for admin control, ability to disable user controls while video or photos are looping, and an optional end page for including a call-to-action. Combining the features of this kiosk app with secure ArmorActive iPad kiosk hardware enables businesses to have a very inexpensive digital signage solution.
As a full-service solution provider, ArmorActive is focused on meeting the kiosk needs in every industry. "After receiving an overwhelming demand from our customers for a video/photo looping solution, specifically for an iPad kiosk, we built the Video Photo Looper app to meet this need" says Scott Paul, Owner of ArmorActive. "As we continue to aggressively invest in developing apps that we can provide free of charge to our customers, we continue to provide them with full kiosk solutions, rather than just one piece of the puzzle."
The Strata iPad Mini enclosure is based off the original Strata enclosure design, which makes up ArmorActive's most extensive product line. It has revolutionized the iPad kiosk industry with all of the options now on the market, including the Strata iPad POS line adapting to the many unique credit card swipes and the clear acrylic option emphasizing the beauty of the technology inside the enclosure. As the demand for the iPad Mini in business has rapidly increased, the new Strata iPad Mini enclosure offers customers a more competitively priced iPad kiosk option when packaged with the iPad Mini.
"ArmorActive is excited to extend our unparalleled iPad security solutions to new tablets like the iPad Mini," added Jamie Locke, CEO of Armoractive. "We want ArmorActive to always be the leader in tablet security technology and the new Strata for iPad Mini represents that commitment."
For more information on the wide range of ArmorActive hardware and software products, including the Strata iPad Mini enclosure and Video Photo Looper app, visit ipadenclosures.com or tabletenclosures.com. The Video Photo Looper app is also now available for free on the Apple app store.
About ArmorActive Inc.
ArmorActive, is a global tablet security solutions company made in the USA. All products are designed and manufactured locally with the highest grade materials to ensure durability and security. Unique in the industry, ArmorActive also provides a team of Account Managers, educated on the latest tablet kiosk solutions, to help businesses make the best decisions at all phases of their tablet deployment projects, from procurement to implementation.