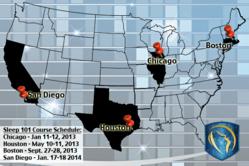 "I would highly reccommend Dr. Allman's courses; take advantage of his experience and knowledge. DSM has allowed me to play a role in their health, prevent strokes, and save lives," Dr. J Gonzales.
Chicago, IL (PRWEB) December 01, 2012
Sleep medicine is the newest specialty in medicine and Dental Sleep Medicine is on a fast track to meet the demand for a CPAP alternative. Treating snoring and sleep apnea sufferers requires understanding treatment protocols and credible medical-dental collaboration. Unfortunately, many dentists across the country are peddling appliances for sleep apneic patients without proper training. For the first time in 3 years, Elite Dental Institute is bringing Dr. Allman's Sleep Medicine 101 course to Chicago, Houston, Boston and San Diego. Dentists will benefit greatly from an internationally known dental sleep medicine expert who is always medically relevant and ahead of the curve!
"Dr. Brian Allman provides the key knowledge, skills and protocols based on an evidence-based and clinically proven model for treating OSA sufferers wanting an FDA approved, medically-proven CPAP alternative." states a recent attendee.
There are many changes coming up in 2013 that need to be learned prior to dangerously dabbling in the treatment of snoring and sleep apnea. Without an evidence-based medical approach, dentists may become frustrated by unsuccessful appliances or therapies. Dr. Allman's unique teaching style and course content provides the tools and training to easily identify patients, refer likely sufferers and engage local medical sleep specialists with great confidence which can make the difference between complete failure and clinical success. Dr. Allman said recently at a Chicago Dental Society Regional meeting, "With proper training, you can refer and treat OSA patients confidently, profitably and safely, without the frustration of appliance failure."
Go to http://www.elitedentalinstitute.com/file/SLEEP101.html today to learn more about this course today!