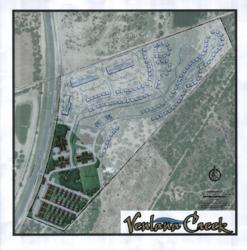 Eagle Ford shale land sale program at or below market value
(PRWEB) December 12, 2012
The real estate project at Ventana Creek in Carrizo Springs, Texas by CS1 Development continues to expand while the company has announced it will begin a land sale program of additional acreage in the Eagle Ford shale.
The initial phase of this real estate project, called Ventana Creek began in July 2012 and is scheduled to be complete in the Spring of 2013. While CS1 has plans for later phases of development, the company has now opened the doors for interested purchasers or development groups to acquire prime land in the heart of the Eagle Ford shale. The property being offering is located along U.S. Highway 83, just north of Carrizo Springs, Texas.
The local real estate brokerage company, Clanahan Realty now has the property listed for sale and is being marketed towards private land purchasers, oil and gas companies, and real estate development groups. With a considerable amount of highway frontage, the property is highly visible as traffic enters into Carrizo Springs. The land manager for CS1 Development said the property will be marketed competitively "at or below market value for most all properties in the Eagle Ford shale to ensure a fair and timely land sale program."
According to the company's land manager, the entire acreage is serviced by 3-phase power for larger development commercial purposes or industrial uses. This spokesperson said "the property is ideally suited for a housing project given its close proximity to the local retail and other commercial establishments in town, or further commercial projects such as apartments, motels, restaurants or even office and warehousing projects."
CS1 will provide more details of the land sale over the coming weeks, or for more information, interested parties can contact Clanahan Realty at 830-876-8828 or visit the company's website at http://www.ventanacreek.com.