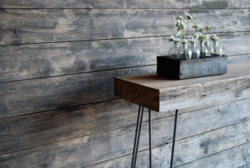 "Etsy embraces the same ideals as Urban Wood Goods and we are so excited to be a part of the Etsy Holiday Shop in New York City, especially since that is where our largest customer base is."
Chicago, IL (PRWEB) December 01, 2012
Urban Wood Goods is in a festive mood and is excited about the opportunity to show off its one-of-a-kind reclaimed wood furniture in the first-ever Etsy Holiday Shop in New York City's SoHo neighborhood from Nov. 29 through Dec. 8.
Urban Wood Goods' handcrafted urban wood items, which are perfect for home or business settings, will be on display for hundreds of holiday shoppers in one of the most famous shopping districts in the world. Many small undiscovered designers like Urban Wood Goods from Chicago will get a chance to showcase their wares for 10 days to the droves of shoppers in the Big Apple at 131 Greene St.
Husband-and-wife team Jason and Erin True of Urban Wood Goods started their small reclaimed wood furniture business with an Etsy shop (Etsy Video) that featured a single handmade salvaged wood bench. They never would have imagined in little more than a year and a half, they would have an entire store full of environmentally friendly furniture on display in one of the most famous shopping districts in the world, next door to Dior.
Shoppers will choose over modern old-growth wood items from Urban Wood Goods that include desks, kitchen islands, dining room tables, bars, TV stands, and more for your urban decor!
The interior design team at Etsy chose Urban Wood Goods from among thousands of furniture makers to create reclaimed wood furniture for the shop. The Etsy Holiday Shop will showcase a curated selection of gifts and other handmade items by creative makers and sellers from the Etsy community in an effort to heighten awareness for the online community in an offline environment.