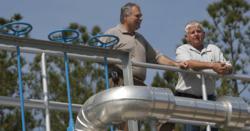 Richmond, VA (PRWEB) December 01, 2012
Timmons Group is proud to announce the formation of Operator Services as a new service for the Water and Wastewater division clients. In addition to existing services, Timmons Group will be dedicated to assisting with the operations and maintenance of small to mid-size water and wastewater systems.
Timmons Group's Operators Services staff has extensive experience in the design, operations and maintenance of water and wastewater treatment facilities throughout the Commonwealth. The team will assist with any areas of concern with the facility as well as offer on-site training classes troubleshoot the collection and distribution system, perform facility optimization and utilization, or collect and analyze the facility data.
Timmons Group can customize service offerings depending on each client's specific need. "Routine maintenance is key to the safe and efficient operations of all water/wastewater systems," says Jim Christian, Director of Timmons Groups, Water and Wastewater Division. "We will work with our clients to make sure their investments are working to peak performance levels as well as identify potential problems that may become costly repair issues in the future if left unattended."
About Timmons Group
Timmons Group is a multi-disciplined engineering and technology firm recognized for nearly twenty years as one of Engineering News Record's (ENR) Top 500 Design Firms in the country. The firm provides civil engineering, environmental, GIS/geospatial technology, landscape architecture and surveying services to a diverse client base. Headquartered in Richmond, Virginia, Timmons Group has regional offices throughout Virginia and North Carolina. For more information, visit http://www.timmons.com.