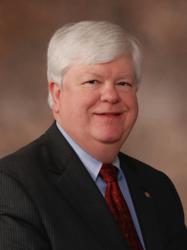 Birmingham, Alabama (PRWEB) December 01, 2012
The Southern Medical Association (SMA) is proud to announce the installation of Gary A. Delaney, MD as President for 2012-2013. Established in 1906, SMA is a multi-specialty medical association committed to providing physicians with education and information in order to provide quality patient care and lead the discussion on medical care reform.
A native of Kentucky, Dr. Delaney received his Bachelor of Science degree in 1971 from the University of Kentucky and his Medical Degree in 1975 from the University of Kentucky Medical School. He completed his residency in Anesthesiology at the University Hospital, Lexington, Kentucky from 1975-1978. Dr. Delaney currently practices Anesthesiology at the Regional Medical Center in Orangeburg, South Carolina.
Dr. Delaney became a member of Southern Medical Association in 1982. During his time with the Association, he has served on a number of committees and has represented SMA in various leadership roles including Associate Councilor from 2005-2007 and Councilor 2007-2011. SMA committees he has served on include Chairman of the Coordinating Committee on Leadership; Coordinating Committee on Long Range Planning, and Budget and Administration; Advisory Committees on New Physicians, Management Compensation, Special Projects and Services, Practice Management Services, Constitution and Bylaws and Professional Identity. He is a member and both a past and present financial supporter of The Society of 1906 which provides financial support to the Research and Education Endowment Fund designed to provide grants and scholarships for medical students and physicians-in-training.
As President of the SMA, Dr. Delaney will lead the organization as it re-establishes its member driven multi-specialty, interdisciplinary focus through a mix of universal, clinical and scientific education and communication provided through the Southern Medical Journal, live and online CME and an Annual Meeting designed to focus on the upcoming young physician. Join Dr. Delaney and the SMA in making a difference for yourself and your patients. Membership information is available at http://sma.org/benefits.
Dr. Delaney and his wife, Gail, who is a past President of the Southern Medical Association Alliance, reside in Orangeburg, South Carolina. They have five children: Michael, Andy, Sarah, Joey and Frances. SMA welcomes Dr. Gary A. Delaney as President 2012-2013.