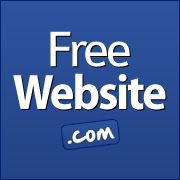 New York, NY (PRWEB) December 01, 2012
FreeWebsite.com released an article today that tells people how its free and easy website builder service can get a free website online in no time. The free website experts also explained how reliable the service can be, all at no charge.
"Our free and easy website builder service is hosted on a web host that guarantees 99.9 percent uptime," said a FreeWebsite.com representative. "That means that when people find your website on Google, Bing or Yahoo, your website will be there to accept the traffic and interact with your visitors."
The company even offers an Internet marketing package that includes SEO content for the website, as well as extensive exposure on all of the social networking platforms. The SEO content will get websites more traffic by appearing on search engines such as Google, Yahoo and Bing.
The article also explained how FreeWebsite.com can help businesses to interact directly with customers using its free and easy website building. Business owners can gather input from the customers who fill out website forms and take website surveys that can be included with each free website.
About FreeWebsite.com: FreeWebsite.com breaks down barriers to website ownership by providing attractive, easy to maintain websites, complete with content, at a low price. To learn more, visit FreeWebsite.com.