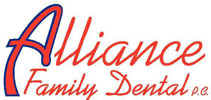 Niagara Falls, NY (PRWEB) December 01, 2012
Alliance Family Dental, an independent family dental practice headed by Dr. Ian Gaskin and Dr. David Millhouse, is dedicated to providing Niagara Falls area families with the latest in dental health technology. This year, the practice is introducing Arestin powder treatments to fight periodontal disease and tooth loss, and keep teeth healthy all year around.
Periodontal disease is the number one cause of tooth loss on the planet, but Arestin treatment provides a powerful strike back against the bacteria that promote gum disease and tooth loss. Arestin powder contains hundreds of thousands of tiny microspheres, each filled with the antibiotic drug minocycline.
These spheres are applied to infected gums by the dentist, and dissolve over time to release metered doses of medication directly into infected oral regions. The application procedure for Arestin is painless, and since it dissolves over time to release its dose of medication, there is no need for a follow-up removal procedure.
Since the treatment is uniquely able to reach infected areas directly and quickly, it is considered an excellent line of defense against harmful gum disease and other infectious bacteria. Arestin fights dangerous bacteria long after patients leave Dr. Gaskin's chair at Alliance Family Dental, and helps ensure peace of mind as well.
Arestin treatments at Alliance Family Dental may be covered by medical or dental insurance, and the provider works with their patients to determine coverage and develop an affordable treatment plan. Whether families are looking for simple, preventative dental care like the new Arestin treatment, or detailed cosmetic and restorative dental procedures, the offices of Dr. Ian Gaskin and Dr. David Millhouse aim to provide optimal dental health for patients of any age. The clinic also understands the occasional need for emergency dental care, and makes every effort to see clients as soon as possible in necessary cases.
About the company:
Alliance Family Dental on Pine Ave. in Niagara Falls NY is the perfect Dentist for the entire Family. Dr. Ian Gaskin DDS and Dr. David Millhouse will provide each family with the most up-to-date procedures in the industry. From simple preventative dental care to detailed cosmetic dentistry, Alliance Family Dental is the ideal dentist for each patient. Their high standard of excellence in personalized dental care allows their team to administer the highest quality of services to patients. They provide a full state-of-the-art treatment and provide restorative and cosmetic dentistry to achieve optimal dental health to all patients. For more information, please visit their website at http://www.alliancefamilydental.net.