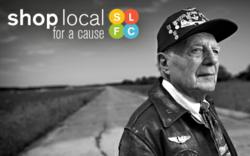 Portland, OR (PRWEB) December 01, 2012
The Greatest Generations Foundation (TGGF) is a non-profit honoring WWII veterans and educating children and adults about their service. This organization is also a featured charity with the NALA, (http://www.theNALA.com), a small business association, presenting Shop Local for Vets 2nd campaign from Shop Local for a Cause. The NALA provides local business owners business growth opportunities through sales and marketing solutions while connecting to well-run charity organizations. The Gobel Agency - Allstate Insurance is one of many of the NALA's businesses throughout the country participating December 6-8.
The Gobel Agency - Allstate Insurance has been in business for 12 years with owner, Chris Gobel. Gobel's father originally started the insurance company in 1968 and Chris's experience and professionalism continues the family tradition, ensuring that one will receive the maximum coverage at the most competitive premium.
Please visit Shop Local for a Cause to learn more or to find local businesses participating. TGGF also has a Text to Donate number; one can donate $10.00 to The Greatest Generations Foundation today, by texting TGGF to 20222.
About NALA™
The NALA (National Association of Local Advertisers), a small business association, is for local business owners offering new online advertising & marketing tools, great business benefits, education and money-saving programs, as well as a charity program.
Contact: the NALA
Tiffani Tendell
805.650.6121, ttendell(at)thenala(dot)com