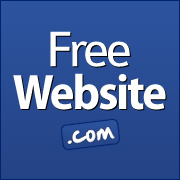 New York, NY (PRWEB) December 02, 2012
FreeWebsite.com released an article today that explains how the company can help anyone design a website for free and then get it published for the world to see. The company offers a comprehensive website design and marketing package that includes free marketing credits and a step-by-step process guides.
"We want the whole world to know that we collaborated with you to design a professional looking free website. We utilize Twitter and Facebook to get the message out to millions of people all over the world," said a FreeWebsite.com representative.
The company helps customers design a website for free and then gives customers a free website editor where website updates and changes can be made. If the customer prefers to have FreeWebsite.com make website changes, then he can email any change requests to the professional web designers.
The article explains how the company utilizes professional web engineers to design a website for free for any person or entity that needs it.
About FreeWebsite.com: FreeWebsite.com breaks down barriers to website ownership by providing attractive, easy to maintain websites, complete with content, at a low price. To learn more, visit FreeWebsite.com.