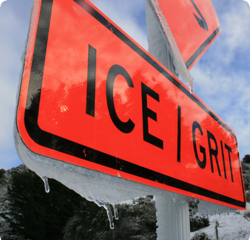 Now is the time for Companies to check and replenish stocks of de-icing products
(PRWEB UK) 3 December 2012
Rock Salt Shop has seen an increase in enquiries and orders as the country prepares for what could be another hard winter.
As the recent wet weather gives way to a period of colder temperatures and the wet roads become icy and hazardous, companies throughout the country begin to think about their winter safety issues.
"We have seen an increase in calls and orders over the past few days as temperatures begin to drop below freezing" stated Helen Stokes (sales manager) "The company has extended its range of de-icing and winter safety products this year, to include a whole new range of grit spreaders, shovels and grit bins, which seem to be popular with our customers."
Now is the time for companies to check and replenish their stocks of de-icing products before the Big Freeze strikes. Snow and ice can play havoc with many companies with the increased potential for injury, accidents and closures, which may be avoided by the correct use and application of de-icing products.
Rock Salt Shop supplies homes and businesses throughout the country with a range of suitable products and accessories. Visit http://www.rocksaltshop.co.uk for more information.