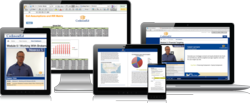 "With the uncertainty of the post 2008 economy, fiscal cliff talks and looming tax hikes, investors should know how to invest in commercial real estate to win the best deals on their terms. It's all about control."
Wakefield, MA (PRWEB) December 04, 2012
CreInvestEd is pleased to announce the launch of a new 10 module online course that teaches investors how to invest in commercial real estate in a post 2008 economy.
"These days, it's all about control and having a system to get to the best deals is critical to success in today's market," says Jeremy Cyrier, CCIM founder of CreInvestEd.
Cyrier, a well known author, senior CCIM instructor, investor, and brokerage company owner, has trained some of the country's top real estate professionals from Walmart, McDonald's, Walgreens, CVS, CBRE, and even the U.S. State Department in cities across the United States.
In his travels and investment activities, he noticed that investors have been looking for ways to gain control of their investments. Cyrier explains that "the game has changed since 2008 and investors are seeking control and a system to give them competitive advantage to profit in today's uncertain economy."
Today, the U.S.market makes up 25% of the world's commercial real estate, according to the EIU, IMF and Prudential Real Estate Investors Research. Of that 25%, nearly 50% is owned by private equity investors, private equity groups, and lenders. "It's that group," says Cyrier, "that wants access to the best deals, too."
That's why in 2011, he launched CreInvestEd to train and coach private investors to use a proven system to master the fundamentals of investing while accessing the best deals on the best terms.
For additional information on CreInvestEd's new 10 module online course, contact Jeremy Cyrier or visit http://www.commercialrealestateinvestingeducation.com.
About CreInvestEd
CreInvestEd, the nation's leading trainer on how to invest in commercial real estate, provides free investing tips, real estate coaching and has recently released its latest 10 module online course course entitled "Start with Finding the Deal: How to Build a Steady Flow of Investment Opportunities Fast."
Media Contact:
Jeremy Cyrier
(888) 224-6650
http://www.commercialrealestateinvestingeducation.com