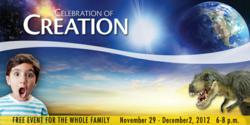 "The enormity, complexity and precision of creation is one of pure amazement, and affirms the work of an awesome God." E. Albert Reece.
Silver Spring, Maryland (PRWEB) December 01, 2012
Seventh-day Adventists in Maryland are celebrating the Biblical account of creation this weekend with a series of lectures from leading scientists and special programs for children.
The free community event, Celebration of Creation, runs November 29 to December 2. The event includes a screening of a 20-minute nature film, "The Creation," shot during filmmaker Henry Strober's four-year journey around the globe.
Adventist church leaders say they chose the theme of creation because it has a profound impact on our society.
"All of us need to know where we came from," said Williams Costa Jr., communication director for the Seventh-day Adventist world church. "We want to know who is our father, mother, family. God created us. We belong to Him."
The evening sessions feature four nationally renowned speakers, including pediatric neurosurgeon Ben Carson, author of "Gifted Hands" and "Think Big."
"I feel very fortunate to have had so many experiences with God in my life that I have no doubt of His existence and influence," Carson said. "He is the source of all wisdom and is available to anyone who seeks Him. It's hard to imagine my life as a neurosurgeon without the guidance of The Almighty."
The other keynote presenters are Milton Brown of the Georgetown University Center for Drug Discovery, E. Albert Reece, dean of the University of Maryland School of Medicine and Tim Standish from the Geoscience Research Institute.
Reece said learning about God's universe is a passion for him.
"The enormity, complexity and precision of creation is one of pure amazement, and affirms the work of an awesome God," Reece said.
The evening keynotes are accompanied by a corresponding event for school children, featuring artists Buddy Davis and Dan Leitha of the Creation Museum and Rich Aguilera, nature editor of Guide Magazine. The program will share evidence of creation in a fun, informative session geared toward elementary-aged children.
Church leaders said events like Celebration of Creation are a vital part of the world headquarters' operations.
"We want to share our joy of living," said Armando Miranda, vice president for the world church. "We want to tell the community in this way that we are here to serve you."
For more information about the event, visit Adventist.org/creation. The Seventh-day Adventist Church is worldwide body of more than 17 million Protestant members living in 209 countries.