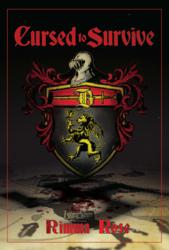 "It's a 'beauty and the beast' story of the Holocaust filled with tragedy, real history and a sobering analysis of love, family, friendship and patriotism."
Brooklyn, New York (PRWEB) December 01, 2012
While analyzing the major success of novels like 50 Shades and the Twilight Saga, author Rimma Rose Shpigelman sought to write a book that would appeal to a large audience, yet remain true to her passion for history and culture. To raise the "quality & educational bar" in the historical romance category, Rimma Rose has done countless hours of historical and social research about European aristocracy, politics and international affairs of Europe in the 19th and 20th centuries. Her book takes a unique look inside the mind of a patriotic German nobleman with unusual gifts and immense opportunities for glory and domination.
We witness the often horrific events of the Holocaust through his eyes, as he falls madly in love with a daughter of a Jewish doctor in the midst of the Nazi reign. Cursed to Survive is a historically accurate, easy-to-read and passionately engaging novel. It's a 'beauty and the beast' story of the Holocaust filled with tragedy, real history and a sobering analysis of love, family, friendship, patriotism and other important concepts.
Following graduate school and a brief teaching tenure as a professor of European Politics at St. Johns University, Rimma began writing her novel, spending months on detailed research of World War II, Nazi Germany, German aristocracy and tragic fate of the European Jews during those dark times. Rimma Rose's deep knowledge and understanding of history, diplomacy and politics combined with creative imagination and talent for fictional writing set Cursed to Survive apart from the usual historical fiction of the period.
Rimma's personal story is also unique for an American author. Together with her family, she immigrated to the United States from Ukraine in 1998, when she was just sixteen. Rimma states, "I believe in the American dream and know it's achievable and possible to those willing to work hard." She has followed this conviction, from mastering English along with three other languages, (Russian, Italian, Ukrainian) to receiving multiple graduate degrees from St. Johns University, all the way to achieving her ultimate dream of writing a compelling historical novel.
Rimma is not all business, however. She has a strong, outgoing, and engaging personality that shines through in her writing. With all of her achievements you'd believe Rimma to be a woman 20 years her senior. Rimma adds, "I still like to have fun. I like going to museums, art galleries, concerts, clubs, new restaurants, and of course shopping - I love fashion." It's quite clear that despite her numerous accolades, Rimma Rose is someone who can relate to women and men both young and old, both personally and through her writing.
Cursed to Survive will be available for Amazon and on Kindle November 30, 2012. The book trailer video can be seen at http://www.youtube.com/watch?v=RO-OnQP