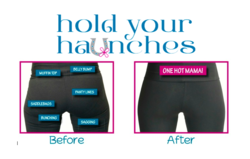 "You're getting a great pair of pants and a great piece of shapewear all in one. There's nothing like it out there, " says Erin Bickley, co-founder of Hold Your Haunches.
New York, NY (PRWEB) December 03, 2012
Women everywhere are discovering a miraculous secret weapon that supports them in all the right places. Hold Your Haunches is an innovative line of pants for women that compress, tighten and create the appearance of being up to 10 pounds leaner.
Available in three styles, a legging, a capri and a boot-cut, all in black, the luxury shapewear pants not only improve the view, they also eliminate the annoyance and discomfort of rolling, binding and sagging associated with shapewear. Hold Your Haunches takes the suffering out of shaping and allows women to wear what they like, look sexy and feel confidant.
The secret is a layer of highly graded compression fabric sewn comfortably underneath the pant. The interior lining lifts the rear and smoothes and slims the silhouette- eliminating lumps, bumps and dimples. The pants also allow women to customize the adjustable waistband to slim one's mid-section.
Mompreneurs Erin Bickley & Jenny Greer are the geniuses behind Hold Your Haunches. "One day Jenny was talking about how she didn't feel good in the pants she was wearing," says Bickley. "She called it the 'two-butt effect,' where your bottom hangs out of your underwear. She said there must be a pair of leggings with a sewn-in girdle. I knew it didn't exist because I'd been searching for the same thing for a year." Unable to find their miracle pant, they invented it.
Currently sold in more than fifty stores nationally and through its website, Hold Your Haunches is making news, including a recent appearance on CNN's Headline News, tabloid photos of newly pregnant Jessica Simpson wearing the boot cut style and twitter plugs from cast members of the Real Housewives of New Jersey.
The light, compression interior makes the pants a staple for air travel and helps fight fatigue for women on their feet all day. For pregnant women or post-partum moms, the pants are the perfect solution for women who want added support in the right places. Available in sizes XS-XXXL, Hold Your Haunches is a fashion staple for every woman.