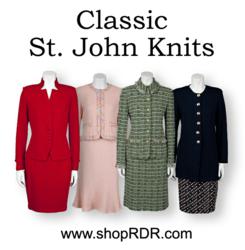 Amazing Deals On St. John Knits Still Available At ShopRDR.com
(PRWEB) December 04, 2012
Upscale fashion brand St. John Knits has come a long way. What began as a modest merchant of knit suits and dresses quickly exploded into an industry powerhouse. Today, Rodeo Drive Resale (http://www.shopRDR.com), premier seller of 100% authentic guaranteed Chanel bags, Gucci heels and the world's largest reseller of discount St. John Knits, invites shoppers to explore the latest St John Knits pieces available at ShopRDR.com.
During its ongoing campaign that began in late November, shopRDR.com is offering major discounts site-wide on all St. John Knits merchandise. New arrivals include a St John Knits red ribbed knit cardigan, black Santana Knit sweater, pink ribbed top, white squares silk top and a black satin top, just to name a few.
Rodeo Drive Resale (shopRDR.com) has built a reputation of providing deals on handbags, clothing and accessories from the top designers of upscale fashion. The company offers a 100% guarantee of authenticity on each item sold, and works daily with a network of clients looking to buy, sell, or for consignment of their luxury goods. Over the past several years, consignment stores have grown in popularity, as cash-strapped shoppers have looked to earn bucks for their pre-loved, luxury goods. Many shopRDR.com clients both purchase and consign with the store, meaning many of the latest St. John Knits arrivals are from trusted clients familiar with shopRDR's high standard of quality.
Other coveted pieces available online include St. John Knits dresses, suit skirts, twill jackets, and pant suits. Adored for several decades, St. John Knits have become a symbol of style and sophistication among lovers of luxury fashion. While the label's newer designs are targeted toward a younger crowd, shopRDR.com reminds shoppers that they carry many of the styles and designs that made the label one of the biggest names in designer clothing.
"Women who fell in love with the original St. John can still find past coveted collections at shopRDR.com. On our site, you will also find a well edited selection of newer styles up to 75% off retail," Raya Jaffer, co-founder of shopRDR.com said earlier this year.
ABOUT RODEO DRIVE RESALE
ShopRDR.com loves high-end fashion, and believes finding a high quality, classic piece should be an easy, enjoyable -- and most importantly -- hassle-free shopping experience. For the finest in Louis Vuitton, Chanel, Prada, Gucci, St. John Knits, Christian Louboutin, Tiffany & Co. and more, visit RDR online at http://www.shopRDR.com or call 1-888-697-3725. Also find shopRDR.com's blog at http://blog.shopRDR.com.
Also find shopRDR at:
Blog: blog.shopRDR.com
Facebook: facebook.com/shopRDR
Twitter: twitter.com/shopRDR
YouTube: youtube.com/ shopRDR
Pinterest: pinterest.com/shopRDR
Rodeo Drive Resale (shopRDR.com)
1-888-697-3725
service(at)shopRDR(dot)com