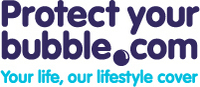 (PRWEB UK) 7 December 2012
Wondering what to get someone for Christmas this year? Protect Your Bubble, specialty gadget insurance company, offers a list of 10 great gifts for the coming Christmas season. Here are five excellent suggestions that will put a smile on a face while not breaking the bank at the same time.
1. iPhone 5 – Topping our list is the latest incarnation of the big hit of 2007 from Apple. The iPhone 5 boasts all of the tricks of the iPhone 4, but with a bigger hard drive, better Siri, battery life and lighter, the iPhone 5 is sure to be on the top of the list. Problems with the map features seem to be fixed, so this is why the new iPhone tops our list.
2. Wii-U – Nintendo's new handheld video system is sure to be a hit with kids and adults alike. Since Wii started the whole total movement gaming revolution, the Wii-U takes that to a new level with the handheld system.
3. iPad – The second Apple product on our list, the iPad2's lower price is sure to make even the most die-hard PC fan take a second look. Simple to use and over 100,000 different apps, the iPad2 is certainly perfect for the soon to be college-bound or responsible high school student.
4. Asus EEE Pad Transformer Prime – Quad-core processor, excellent battery, and a keyboard docking station mean this pad may give Apple's iPad a good run for their money. Throw in some good graphics capability, and this is sure to be a winner no matter who the recipient will be.
5. Ultrabooks – The PC answer to the Mac Air, ultrabooks are super-thin, super-light and can do anything a laptop can do except drops a considerable amount of weight and size. Serious gadget fans will drool over a hot new ultrabook.
6. Kindle Fire HD – Amazons 7" tablet. It features HD display, dual-band Wi-Fi and is good for music and books. It's easy to use and priced at just £159 making it very tempting when comparing it to its competitors price tags.
7. Dr Dre Beats Headphones – Big headphone are the new in thing and Beats by Dre are the cream of the crop. Not just in the fashion stack but with their premium sound quality. If big headphones don't appeal then there is also a range of earphones and speakers.
8. Mircrosoft Surface – Microsoft's offering to the tablet market. Prices start at around £399 and it has an ultra thin a cover come keyboard. It runs the normal Windows 8 operating system but it does also come with the touchscreen version of Windows 8
9. Samsung Google Chromebook – A new computer from Google. It's simple lightweight and starts up fast. With its own internet security, access to everyone favourite Google apps. Prices start from £229.
10. iPad Mini – Last but certainly not least Apples offing to take on the smaller tablets on the market. It does everything its bigger counterpart does in a 7.9 inch display. Prices start from around £269
Regardless of the purchase, it is a wise idea to have gadget insurance for protection against loss, theft or accidental damage. Protect Your Bubble offers gadget insurance for phones, tablets and laptops, and it comes at a price that is affordable.
Get an instant quote for your gadgets via the following URLs:
Mobile Phone Insurance: uk.protectyourbubble.com/gi-mobile-phone-insurance.html
Gadget Insurance: uk.protectyourbubble.com/gadget-insurance/
Tablet Insurance: uk.protectyourbubble.com/tablet-insurance.html
Socialise with Protect your bubble UK on the following social networks:
Facebook: facebook.com/ProtectYourBubble
Twitter: twitter.com/protectyrbubble
YouTube: youtube.com/protectyourbubble