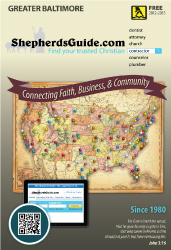 Christians have a desire to connect with other Christians in business.
Baltimore, MD (PRWEB) December 03, 2012
The Shepherd's Guide announces the release of the 33rd annual Print Edition for the Greater Baltimore area (including Baltimore city as well as Baltimore, Harford, Carroll, Howard, and Anne Arundel counties in Maryland.)
Since 1980, The Shepherd's Guide has been the Premier Christian Business Directory throughout The United States and Canada, connecting over 50 million Christians in over 100 directories nationwide. Founded in Baltimore, MD by owner Doug Scheidt, he created the publication for…"Christians having a desire to connect with other Christians in business."
Not only can consumers connect with a trusted Christian lawyer, Christian plumber, Christian architect, Christian roofer, Christian contractor, or other type of needed service, but Christians in business can network to connect with each other in the regional community. This is why, for over three decades, The Shepherd's Guide is and continues to be the leading Christian directory in North America.
The 33rd edition has a new cover design. The graphics highlight the ShepherdsGuide.com online directory as well as a US map showcasing The Shepherd's Guide niche market with a slogan that reads "Connecting Faith, Business & Community." The cover also features a QR Code that users can scan with their smart phone to pull up The Shepherd's Guide online business directory. Linking the QR Code to the website allows for quick access to the online directory–a continually growing success with over 75,000 free listings. The new bible verse (John 3:16) reminds us of how much God loved us "that he gave his only begotten Son, that whosoever believeth in him should not perish, but have everlasting life."
Inside, it contains full-color business advertisements, special listing pages as well as inspirational messages.
In order to connect and strengthen the Christian community, The Shepherd's Guide is continuing to utilize social media through Facebook and Twitter, through connections with Christian businesses, churches, ministries, schools, etc.
Printed copies are now being distributed in hundreds of local Christian churches, Christian ministries, Christian schools, and Christian businesses, including Christian bookstores, Christian restaurants, and Christian counseling centers.
Visit ShepherdsGuide.com for assistance with obtaining a free copy of The Shepherd's Guide, or registering your organizations free online advertising.