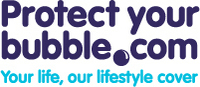 (PRWEB UK) 3 December 2012
In an effort to make things easier for policy holders, UK insurance company Protect Your Bubble has launched MyBubble to help those with insurance have greater control over their policies.
The website – mybubble.uk.protectyourbubble.com – is for current Protect Your Bubble policy holders with gadget and/or bicycle insurance. Those signing up must use exactly the same personal details used when buying the original policy, such as email address and home address.
Once a MyBubble profile has been created, the policy holder can update their personal details such as a change of address or purchase additional cover for other gadgets or bicycles. MyBubble also allows users to quickly file a claim and track its progress online.
By letting customers track and manage their policies online, there is no need to speak to an agent at Protect Your Bubble.
MyBubble is currently in the introductory stages and Protect Your Bubble plans to expand MyBubble to its other insurance products in the coming months.
Protect Your Bubble offers mobile and electronic gadget insurance with a 24-hour turnaround for replacements and bicycle insurance with a five-day repair or replacement guarantee.
Stephen Ebbett, director of Protect Your Bubble, comments: "MyBubble caters to consumer demand for online services which are both speedy and convenient. Being able to file and track claims online will prove a big time-saver for all those people who struggle to find the time to make calls during the working week.
"Once our customers have trialled the new system we'll be extending it to include our other products. Given that gadget insurance claims sometimes have to be filed from overseas, the online service will also save customers money on potentially expensive phone calls too."
About Protect your bubble UK
Backed by a Fortune 500 company, Protect your bubble is the UK's largest specialist gadget insurer that also offers a wide range of insurance products including car insurance, car hire excess insurance, home insurance and pet insurance; all at wallet-friendly prices.
Related Links:
Mobile Phone Insurance - uk.protectyourbubble.com/gi-mobile-phone-insurance.html
Gadget Insurance - uk.protectyourbubble.com/gadget-insurance/
Car Insurance - uk.protectyourbubble.com/car-insurance/
Find Us On:
Facebook: facebook.com/ProtectYourBubble
Twitter: twitter.com/protectyrbubble
YouTube: youtube.com/user/protectyourbubble