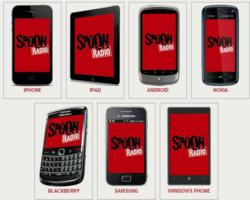 One the Fast Growing Radio Stations on the Internet and Mobile Applications
(PRWEB) December 01, 2012
Spoonradio.com is an international online radio station that can be accessed for free anywhere in the world. It is also a hub of social networking activity. It is a rock radio station whose playlist touches on all popular sub-genres. Even though the station is based in Europe, the music it plays is recognizable in any country. The Killers, Muse, Bon Jovi and Blink-182 get regular airplay. Spoonradio connects listeners to other music fans through its Facebook page and Twitter feed. It even has its own on-site message board that allows members to have discussions with each other in real time.
The music player feature is surprisingly easy to use. Unlike other online radio stations, it does not require listeners to download confusing applications or new music players before they can start enjoying the music. All it takes is one click of the "play" button to launch the radio feature, which starts playing music immediately. The player launches in its own small pop-up window, so it can be easily minimized and kept out of the way while the listener types within her work files or leisurely surfs the Internet. Many other web radio stations play music from their main pages. This creates the annoying problem of the music being stopped if the listener accidentally closes the window or surfs to another website. Spoonradio's mini player guarantees continuous music.
Spoonradio can also be accessed through cellphones. Spoonradio offers apps for most popular phone models. Rock fans can take Spoonradio with them wherever they go. Commuters especially enjoy having a radio station at their fingertips. Real rock radio stations are quickly becoming extinct, so Spoonradio is the only rock station that many people will be able to access on their drives to work or school. Users of public transportation will be able to block out noise with playlists that are always different. They will save a great deal of time and money because they will not have to continually buy new song files and then arrange them into new playlists.
Spoonradio's website has all of the features of the typical radio station website. There is a news section, which contains all of the latest updates about popular bands and upcoming events. There is a separate page for upcoming concert dates, though it only features concerts that will be taking place in France. There is a sidebar full of Youtube links to bands' recent music videos.
The best thing about Spoon is that its services are absolutely free. It does not require listeners to buy subscriptions or even sign up for advertisers' mailing lists before they can open the music player. It delivers rock music to the people who love it.