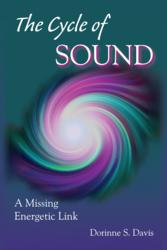 Sound is the new healing alternative for today!
Succasunna, NJ (PRWEB) December 01, 2012
The Davis Center shares that Dorinne Davis, President/Founder of The Davis Center has been honored as an "Award-Winning Finalist in the 'Health: Alternative Medicine' category of The 2012 USA Best Book Awards, sponsored by USA Book News" for her book http://www.cycleofsound..com [The Cycle of Sound: A Missing Energetic Link. __title__ The Cycle of Sound: A Missing Energetic Link] USABookNews.com, the premier online magazine and review website for mainstream and independent publishing houses, announced the winners and finalists of the 2012 USA Best Book Awards on November 16, 2012. Over 400 winners and finalists were announced in over 100 categories covering print, e-books and audio books. Awards were presented for titles published in 2011 and 2012.
Jeffrey Keen, President and CEO of USA Book News, said this year's contest yielded over 1500 entries from mainstream and independent publishers, which were then narrowed down to over 400 winners and finalists. Keen says of the awards, now in their tenth year, "The 2012 results represent a phenomenal mix of books from a wide array of publishers throughout the United States."
Dorinne Davis, in The Cycle of Sound: A Missing Energetic Link brings the use of sound, vibration and energy to a new level. Her Davis Model of Sound Intervention℠ is introduced as a model for the 21st century to discover how by balancing the personal sound vibrations of each person, one supports their overall learning, development and wellness challenges. A previously unidentified subtle energy system is introduced entitled The Voice-Ear-Brain Connection, which once balanced, allows each person to 'hear' what their body says it wants in that moment in time to feel better. The process supports a way for the body to begin a 'self-healing' approach towards feeling better, thinking more clearly, processing what is said better, feeling more alive, moving with more ease and less pain, communicating better, and so much more.
Ms. Davis' work demonstrates that the flow of energy between one's voice, ear and brain must stay in balance for each person to feel whole and together, and provides a technique to do so. This missing energetic link allows each person to know what their body wants to feel better, and can be used with people of all ages and all issues. Her work introduces a unique process that can be applied within the field of Alternative Medicine. For additional information, visit http://www.cycleofsound.com or http://www.dorinnedavis.com.
Contact:
N Puckett-Dunn
npdunn(at)thedaviscenter(dot)com
(862) 251-4637