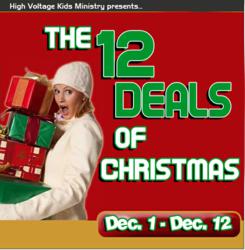 High Voltage is offering up to 50% OFF Select Curriculum, Videos, Music, and more.
North Little Rock, AR (PRWEB) December 01, 2012
Christmas comes but once per year – and the same goes with High Voltage Kids Ministry's now famous "12 Deals Of Christmas" promotion. They have been making a list and checking it twice. The good news is – everyone can be on the nice list.
High Voltage Kids Ministry is so thankful for each person who partners with them. That's why they have chosen some of the best deals of the year, wrapped them up with a bow (well, sort of), and got them lined up for twelve days of savings!
So, in order to be in the know – visit and "like" their Facebook page or follow them on Twitter. They will be sending out Facebook and Twitter updates daily to tell the world what the deal of the day is. Don't be on the outs, or else end up with a lump of coal instead of a stocking full of Children's Ministry goodies.
They are offering up to 50% off Select Curriculum, Videos, Music, and more.