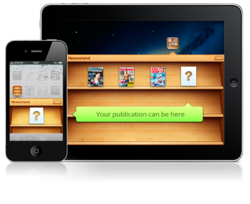 With over 100 million iPads sold, publishers must get their content on the iPad!
New York, NY (PRWEB) December 04, 2012
New York City based company TapEdition announced today a one-time promotional low price of $199 flat per month to mark the launch of its new DIY system and streamlined pricing model. This pricing applies only to apps submitted during December 2012 and will be kept locked for those apps through the year of 2013. The standard pricing for TapEdition is $399 per month.
With 100 million iPads sold and the rise of the Nexus 7 and other tablets it is becoming increasingly essential for publishers to enter the mobile world; TapEdition allows publishers with virtually any budget to publish digitally for the iPad and other mobile devices. For this price users get unlimited issues of their publication (along with back issues) on a native and HTML5 app, unlimited downloads, and unlimited interactions including photo galleries, video, audio, links, RSS feeds and social features.
The TapEdition digital publishing platform has created hundreds of iPad and Android apps for magazines, newspapers, journals, catalogs and brochures. Digital publishing lets writers and entrepreneurs create their own publications without paying printing and physical distribution costs.
TapEdition uniquely allows publishers to operate their own Apple Developer and Google Play
accounts with no revenue sharing per download. Publishers enjoy full control of app, subscription and download pricing, allowing them to be in charge of their revenue streams. TapEdition users upload a pdf of a publication and use the web-based tools to quickly and intuitively create dynamic, interactive mobile apps to publish on the mobile Newsstand.
TapEdition is the first publishing platform to allow delivery across multiple platforms simultaneously. Once content has been created, updates can occur in real time with immediate delivery to all chosen platforms including iPad, iPhone, Android and/or HTML5.
With TapEdition's technology, publishers control the release of new issues and updates for all ecosystems from a single, web-based tool.
TapEdition features include:

Embedded photo galleries
Embedded videos
Links
Tap-to-email
Purchase issues from within the app
Social media
And more
Visit http://www.tapedition.com and start building your app today!