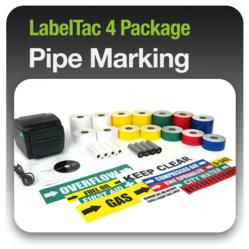 "The pipe marking guide gave us all the information we required to properly mark our pipes. The LabelTac 4 Pipe Marking Package came complete with everything needed to complete the task of labeling pipes throughout the plant."
Lake Oswego, OR (PRWEB) December 03, 2012
Every facility throughout the world depends on water and some form of chemicals to conduct business and these liquids flow through pipes within the establishment. For optimal workplace safety, every above the ground pipe should be labeled properly. Highly visible or frequently accessed pipes may be the most important to label for day to day safety, but difficult to locate or infrequently accessed pipes should be labeled as well. Labeling pipes according to ANSI A13 helps guarantee a safe work environment. Labeltac.com is now offering pipe marking labels, label printers and complete pipe marking packages that will make the job of marking pipes easy and quickly.
Marking exposed pipes correctly and according to the industrial color codes as set by OSHA and ANSI standards will assure workers, visitors and service repair people they are protected from some possible gas leak or explosion. Pipe marking labels will effectively communicate the contents of the pipes and will give additional detail if special hazards (such as extreme temperatures or pressures) exist. The text printed on the label is short in length and is easily understood. The label colors are bright and can be seen from a distance as specified by ANSI standards. Not only is the text important but arrows should be used in conjunction with the legend to show which direction the material flows through the pipes.
Labeltac.com offers a free pipe marking guide with information about color code standards to comply with both OSHA and ANSI. By following the guidelines set in the booklet will guarantee accurate pipe marking, compliance with OSHA and ANSI and most importantly safety within the workplace. A plant manager commented, "The pipe marking guide gave us all the information we required to properly mark our pipes. The LabelTac 4 Pipe Marking Package came complete with everything needed to complete the task of labeling pipes throughout the plant."
For more information about pipe marking labels, please visit http://www.labeltac.com/pipe-marking/ or call toll-free (866)777-1360 to talk with a professional representative.