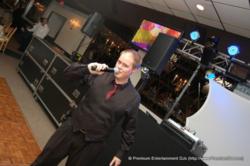 A holiday party is a corporations chance to reward its employees, so why not throw an amazing party with an NJ DJ or Photo Booth?
Butler, NJ (PRWEB) December 04, 2012
This time of year brings many festive things: holiday music on the radio, holiday movies in the theaters and on TV, and holiday parties at the office. Corporate holiday parties are fun to attend, but can be hectic to plan. Thankfully, Premium Entertainment, New Jersey's premiere corporate entertainment company, has some fun suggestions to improve any lackluster corporate party. Our event specialists have hundreds of corporate parties under their belts, and just as many ideas for fun, memorable and unique corporate holiday parties. NJ's Premium Entertainment specializes in DJ's, MC's, Photo Booths and UpLighting, any of which can make a holiday party go from bland to grand!
"The trick to throwing an awesome corporate holiday party," says Premium Entertainment's lead Event Specialist Anthony DeStefano, "is to give it some 'out of the box' elements. Give a party a fun theme, like Bad Christmas Sweaters or New Years Eve in Times Square, or swap out run of the mill holiday cookies for trendier treats like cupcakes or macaroons. A holiday party is a corporations chance to reward its employees for all their hard work, so why not encourage employees to let their hair down by throwing an amazing party with a NJ DJ or Photo Booth?"
Other fun and easy to create themes for corporate holiday parties can be:

Rave Dance Party (give guests glowsticks and candy necklaces upon entering, and have a fun light show on the dance floor)
Prohibition Cocktail Party (give guests a secret code word in order to enter the "bar," have the servers dress up in 1920s garb, play jazz music in the background, and serve drinks like Sidecars, Mary Pickfords and Highballs)
Middle School Slumber Party (encourage guests to show up in their pajamas, serve pizza, ice cream and junk food, and play fun games like Murder, Truth or Dare, and Would You Rather...)
Premium Entertainment's corporate holiday party specialists have hundreds more unique ideas like these. We have experience providing a variety of entertainment to Tri-State companies such as Kohls, Smirnoff, Coca-Cola, Home Depot, Jack Daniels and Sony. Premium Entertainment's most popular packages include our NJ Photo Booths. Each luxurious NJ Photo Booth is endlessly customizable, from the photo strips to the booth itself. Thus, an NJ Photo Booth can blend seamlessly into any holiday theme.
Premium Entertainment LLC is the foremost special events production company in the NJ, NY, & CT Tri-State area. It is a boutique-inspired agency that provides the most talented professional DJ's, world class lighting designers, and luxury photo booths for an array of private events. Premium Entertainment, LLC has continually led the industry in innovation and flawless event production since 2001. For more information on Premium Entertainment, visit http://www.PremiumDJ.com.