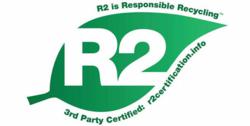 "Our business and government clients demand world-class data security and environmental stewardship, and the R2 certification validates our efforts in those areas," said Securis Co-Founder and CEO Jeremy Farber.
Chantilly, VA (PRWEB) December 13, 2012
Securis (formerly PC Recycler) announced today that it has completed the R2 certification process, an intensive, months-long third-party audit of the company's secure, end-to-end electronics recycling processes. R2 is the leading standard for the electronics recycling industry, ensuring practices that protect the environment, human health, safety and the security of the recycling process.
"The Securis team is very proud to receive the R2 certification, which recognizes the tremendous focus and investment we have made in our processes, logistics, training and personnel," said Andrew Portare, Vice President of Operations at Securis.
The R2 Standard addresses concerns among corporate IT departments about data breaches from discarded computers. Every certified R2 recycler has been rigorously audited by an independent third party auditor that evaluates each recycler in more than 50 areas of operational and environmental performance.
"Our business clients, including organizations in the Federal government, financial services, healthcare and government contracting sectors, demand world-class data security and environmental stewardship," said Securis Co-Founder and CEO Jeremy Farber, "and the R2 certification helps validate our efforts in these areas. In fact, Securis is one of only a handful of companies that hold certifications from both R2 and the National Association for Information Destruction (NAID)."
CONTACT: Please contact Bob London via phone at (240) 994-7644 or email at bob(at)londonink(dot)com for additional information about this release.
About Securis
Originally founded as PC Recycler in 2000 and based in the Washington, DC-metro area, Securis is an industry-leading provider of information technology asset disposal (ITAD), including ultra-secure recycling, auditing and destruction services for PCs, hard drives, servers, monitors, printers and other electronics waste and data storage devices.
Securis is approved by the U.S. General Services Administration (GSA) and certified by National Association of Information Destruction (NAID) and the U.S. Defense Logistics Agency (DLA) Logistics information Service. Securis is 100% compliant with all U.S. federal, state, and local data security and environmental regulations. Just before being renamed Securis in Summer 2012, the company was recognized as #396 on the Inc. 500 list as one of the fastest growing private companies in America.
For more information, please visit http://www.securis.com.